Loosening My Grip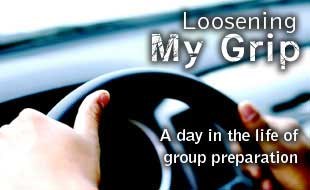 This slideshow is only available for subscribers.
Please log in or subscribe to view the slideshow.
Loosening My Grip
A day in the life of group sermon preparation

Editor's note: Though our interview (part one and part two) with Dave Ferguson about the power of group sermon preparation provided a helpful picture of the discipline, we thought it would be wise to sit in on the actual process. The pastoral staff at New Life Community Church (a multi-site, multi-ethnic church that meets across the Chicagoland area) agreed to let me be a "fly on wall" during one of their group preparation meetings, creating a live-as-it-happens opportunity to observe this unique approach to sermon writing.
After spending the first hour of their Monday morning in prayer, the pastoral staff of New Life Community Church huddles around a table to pull together next Sunday's message. As I walk into the conference room to join them, I see that the table is covered with Bibles, pens, notepads, laptops, and—no less important—mugs and paper cups filled to the brim with coffee (the morning people clutch bottled water). Over the course of an hour, I will sit quietly in ...