Bothered by Theology
Article
Bothered by Theology
Our theology impacts our convictions, sermon preparation, and preaching.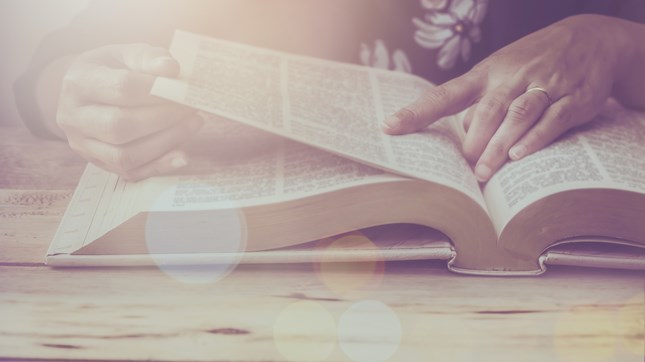 Image: freedom007 / Getty Images
I'm bothered by theology. It's not that I'm bothered negatively, that I'm attracted to an errant, unorthodox theological point of view. Nor am I uncomfortable with holding to an orthodox, evangelical position.
As a preacher, I'm troubled in my soul by the weight of the responsibility of theology—and that's a good thing. This weight marked by bother, pushes me to be faithful to my convictions in sermon preparation and preaching. I've never been more certain of my theological views than I am now. I'm bothered by theology positively, not negatively.
Any preacher cannot help but be bothered by theology. Alister McGrath puts it this way, "… theology is about an imaginative enlargement of our vision of God and the corresponding expansion of our mental capacity to grasp and appropriate the rich and rewarding 'big picture' of reality that lies at the heart of Christian faith" (Mere Discipleship, 52).
This theological trouble, this big-picture-bother, has an impact on my convictions, sermon preparation, and preaching. I'm hoping that as we explore these troublesome areas that my bother will become your bother, too.
Bothered Convictions
When I stand to preach, there are layers of theological conviction that form the foundation of my thinking and hermeneutics. First laid in the Bible studies at my home church in western Pennsylvania under the teaching of Pastor LeVan, the theological strata continued to grow in additional Bible studies, Sunday School, and on into college Inter-Varsity groups. Then came seminary with theology on steroids, followed by research at Oxford, in addition to studies and classroom experiences at two other schools.
Since then, the theological deposits have been rich from sermon preparation, reading, lectures, teaching received, conversations enjoyed and, of course, my daily quiet time with the Lord. Alister McGrath notes, "Christian theology is the natural and necessary outcome of our personal encounter and sustained engagement with the person of Jesus Christ" (Mere Discipleship, p. 52). My life has been nourished by a daily walk with Christ and a rich encounter with innumerable sources over many years.
I cannot help but think about theological consequences or possibilities when serving as a pastor or now as a professor of preaching. I'm bothered by my convictions—and happily so—as I meet with students, prepare a lecture, or vote on faculty matters. I cannot help but be bothered by theology.
Bothered Sermon Preparation
The presence of theology stands over me when I prepare to preach. I cannot help but ask about the theological implications of a given text. Theological doctrine and its outworking are woven into the texture of each biblical passage and the sermons from which they come. As a preacher, I cannot ignore the theological consequences of who Jesus is—preincarnate, incarnate, and glorified. I am demanded to acknowledge the doctrinal fabric of Romans 1 and 1 Corinthians 11 or 13.
Haddon Robinson often stated that every text has a theological idea. That is, the text always has something to say—something theological to say—about God. "What does this passage say about God?" he would query. That question is not one that a preacher can pass over. It is a question that puts the text into the broad sweep of biblical theology.
There may be bothersome doctrines that arise out of the study of a text. But the thoughtful preacher does not turn away from the stickiness of the doctrine. He or she tries to understand it and then addresses it.
When preparing to preach the Resurrection, I might be challenged to wrestle with the doctrines of miracles, resurrection, faith, incarnation, among others. But this theological and spiritual skirmish provides me with more confidence and certitude to preach well because I have done my homework with why I believe in the Resurrection and want my listeners to do so, too.
Bothered Preaching
I'm bothered when I preach the text. Theology dogs me to do so. When a text is plain or theologically sharp, I am obliged to present it to my listeners in such a way that they can understand it and, prayerfully, embrace it.
When preaching about becoming wise as laid out in the Proverbs—that the wise person fears, acknowledges, reverences God as God—I might want to confront my listeners with the opposite: being a fool. The fool does not recognize God as God. If they want to be wise, they first are to fear God as they flee foolishness.
Preaching the full thrust of the theological truth of a text is the preacher's responsibility. This dialectic is seen throughout the Scripture, among these are the opposites of heaven/hell; life/death; righteous/unrighteous, to name a few.
I'm bothered to give the full picture, to deal with the messiness of the message as found in the Scripture to provide my listeners with the full council of God.
Conclusion
Are you bothered by theology? I'm bothered by theology. And I'm pleased that this is the case. I'm confident in the power of the Bible and the truth it contains. My convictions about the Scripture and what is proclaimed therein about God and belief about God, drive me in my living, thinking, studying, and preaching. I trust that this will be the case for you, too.
Scott M. Gibson is the Professor of Preaching and holder of the David E. Garland Chair of Preaching at Baylor University/Truett Seminary in Waco, Texas. He also served as the Haddon W. Robinson Professor of Preaching and Ministry at Gordon-Conwell Theological Seminary in South Hamilton, Massachusetts, where he was on faculty for twenty-seven years.