The PT Book Awards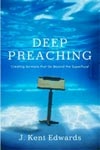 This slideshow is only available for subscribers.
Please log in or subscribe to view the slideshow.
The PT Book Awards
Five outstanding reads that strengthen the soul and skill of the preacher
Feeding the Preacher's Soul
A Three-Way Tie for the Winner
Deep Preaching
by Kent Edwards
B&H
One of our judges, who chose Deep Preaching as his winner, wrote, "What tipped the scales for me was the challenge and 'fire to preach' that I felt as I read Edwards' chapter on 'Preaching Deep Sermons.' I was struck both by characteristics of a deep sermon and the characteristics of a deep preacher. I also found the chapter on 'Get the Big Idea' quite compelling, including the defense of expository preaching. What it boiled down to was my answer to the question: If I could put one of these books into the hands of the guys on my staff who preach and into the hands of the young preachers that I mentor, what book would I choose? The answer was clear: Kent Edwards' book!"
Dying to Preach
by Steven Smith
Kregel
Another judge wrote, "Dying to Preach gave me insight into the heart of gospel preaching in a way I don't remember reading before. Smith's exposition of various Pauline texts helped me to ...