Preaching on Matthew
Article
Preaching on Matthew
An overview of the historical background and theology of Matthew to help you develop your sermon series and apply it to your hearers.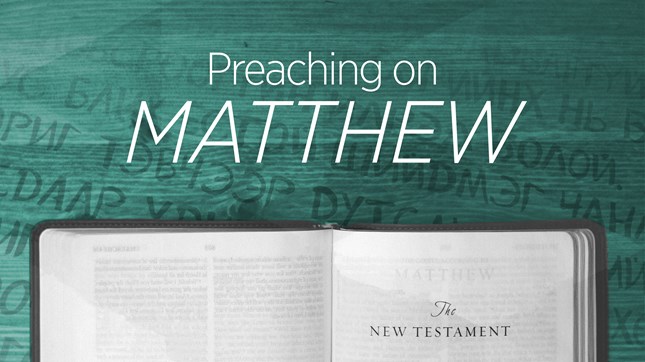 Image: Pearl / Lightstock
Historical Background
The author of the first Gospel in the New Testament is a brilliant author. He has both a clear theology of Jesus' nature and function and a clear method for telling the gospel story. He is a brilliant theologian and articulate communicator. Scholars have referred to the first Gospel as both "The Teacher's Gospel" and "The Accountant's Gospel." The reason for the first is clear—this first Gospel focuses a great deal on Jesus' teaching. The reason for the second, however, is not as clear as one might think. One may assume that in calling it "The Accountant's Gospel," scholars are hinting at the traditional view of Matthew (or Levi) the tax collector writing this Gospel. However, this designation has more to do with the rhetorical structure that Matthew uses to scaffold his narrative.
Yet, while we know much about the author's writing ability, we really do not know who penned this treatment of Jesus' life. In the Greek text, the title of the first Gospel is "According to Matthew" (kata Mathaion). However, it is doubtful that the original papyrus circulated with that title. It is now generally accepted by scholars, most notably those who study canonical criticism (the study of how the biblical "canon" was formed), that titles did not become attached until the mid-second century AD to distinguish the various writings from one another.
The first attribution to Matthew as the author of the first Gospel comes from Papias of Hierapolis (modern-day Turkey), who lived sometime between the mid-first until the mid-second century. According to the early Christian historian Eusebius (AD 265-339), Papias noted that the first Gospel was written by a disciple named Matthew who had previously been a tax collector (9:9; 10:3) and had "compiled the Sayings in the Aramaic language, and translated them as well as he could" (Ecclesiastical History 3.39). And while the assertion of authorship has been generally accepted, there are a couple of problems with Papias' claim. First, the Gospel was written (and written very well) in Greek, not Aramaic. Second, what is presented to us in the first Gospel is more than a collection of sayings, as this book is more closely akin to Deuteronomy than Proverbs (although the first Gospel has been classified as a type of wisdom literature).
Additionally, there is a noted difference in Mark and Luke's narratives. In both the second and third Gospels, Jesus calls a tax collector named Levi—not Matthew—to follow him (Mark 2:13-14; Luke 5:27-28), although both Gospels note that one of the core disciples is named Matthew, not Levi (Mark 3:18; Luke 6:15). While this certainly causes confusion, many scholars seem to agree that we should see Matthew and Levi as one in the same, much as we understand Peter also going by his Hebrew name Simon (cf., Luke 5:8; Acts 15:14; 2 Peter 1:1).
The next matter of background focuses on when this Gospel was written. We have been referring to this Gospel as the first gospel, however that is only accurate in one sense. While it is the first Gospel in the New Testament, it was not the first Gospel written. That honor belongs to Mark's Gospel. In fact, it was likely not even the second Gospel written, as that honor has traditionally fallen to Luke's Gospel. Although we cannot specifically pinpoint the date of authorship, there are a couple of factors which can help us establish a hypothetical timeframe. On the one hand, the text itself provides a handful of vivid clues that Jerusalem has been destroyed (the heavily eschatological imagery in chapter 25) and that the church is in existence (18:15-20). On the other hand, Matthew's Gospel was a favorite text of Ignatius of Antioch, who was writing and preaching in the early first century. Add to this the rising tensions between Jews and Christians following the destruction of Jerusalem, most notably cemented at the Council of Jamnia (ca. AD 85) which seem to be reflected in Matthew's narrative, and we likely have a composition window of AD 80-90.
Much like the Book of Hebrews, this Gospel seems to be addressed primarily to Jewish Christians who found themselves caught between their cultural calling as children of Abraham and their spiritual calling as disciples of Jesus. However, let us know not forget that this is, at its core, a narrative about the life of Jesus and his invitation to follow in discipleship, meaning there is a universal audience ultimately in mind here.
Literary Background
In defining the literary background of a book like the first Gospel, we must begin with a bit of semantics. There is, in Christian theology, a difference between the gospel and a Gospel. The gospel is the continuing redemptive work of God begun at Eden, progressed in the Passion of Jesus, and awaiting its culmination in the eschatological return of Christ. In short, as first articulated by Karl Barth (1932) and best defined by the late David Bosch, the gospel is the essence of mission, which is the "activity of God himself" (Transforming Mission, 389). In a practical sense, the gospel is "the content of Christian preaching" (Mark Allan Powell, Introducing the New Testament, 82).
If this is the case, why do we call the first four books of the New Testament "Gospels"? The short answer to this question is that these theological documents seek to articulate the "activity of God himself" through the nature and function of each book's main character—Jesus. As the pinnacle event of God's mission is the resurrection of Jesus, these books receive the label "Gospel" because they serve as the best articulation of God's mission, of how God continues his redemptive work.
Rather than communicating this material in didactic form (e.g., the letters of Paul, Peter, and John), the Gospel authors use the genre of bios, an ancient biography. However, unlike modern biographies where an individual's history is recited in chronicled history, the Gospels function more like narratives, blending a variety of rhetorical and literary tools (i.e., parables, pronouncement stories, divine reversals, etc.) to serve a missional agenda.
The purpose of employing this genre is to present the argument that Jesus lives an ethical life worth emulating but that Jesus holds the "word of life" (Phil. 2:16; cf., Matt. 7:24-27). In reading a Gospel, one is presented with the gospel. And one cannot simply ignore the gospel once it has been communicated. One must either choose to accept it or reject it.
Sermon Series
Messiah: Walking with Jesus through the Gospel of Matthew
This series was adapted from a unit-by-unit Bible study that I taught while spending a year preaching from various parts of the Gospel. Based on an approach I first encountered in a sermonic commentary by one of my mentors, an approach that I adopted for a sermon series from the Gospel of Mark, this series seeks to work through the various "scenes" in the Gospel, much like watching a documentary or reading a biography. The purpose of the series is to introduce the audience to Jesus as the Messiah that Matthew presents him as. The challenge presented through the series is to ask the congregation if they are truly walking with Jesus.
Series Big Idea: Jesus is our true Savior who brings life everlasting.
Text: Matthew 1:1-2:23
Title: An Account
Big Idea: God worked in unusual circumstances to bring Jesus into the world.
Text: Matthew 3:1-4:11
Title: In Those Days
Big Idea: Both God and John point to Jesus as the Messiah, an identity that Jesus fully accepts.
Text: Matthew 4:12-22
Title: As He Walked
Big Idea: Jesus calls disciples to follow him as a community.
Text: Matthew 4:23-7:29
Title: He Taught Them
Big Idea: Jesus provides for his disciples a plan for following him faithfully.
Text: Matthew 8:1-9:35
Title: Great Crowds Followed Him
Big Idea: Jesus has power over disease, disaster, demons, and death.
Text: Matthew 9:36-10:42
Title: I Am Sending You Out
Big Idea: Part of following Jesus is going where he sends us.
Text: Matthew 11:1-12:45
Title: Doubt and Dissension
Big Idea: Jesus challenges us to work through our doubt and dissension, rather than dismissing it, because it will help us grow as disciples.
Text: Matthew 12:46-13:58
Title: The Kingdom of Heaven
Big Idea: Jesus reveals the kingdom to those who are seeking it.
Text: Matthew 14:1-36
Title: He Had Compassion for Them
Big Idea: Jesus demonstrates power and mercy beyond our imagination (and even thinks we can walk on water).
Text: Matthew 15:1-16:20
Title: Listen and Understand
Big Idea: Jesus offers us what we need and hopes we will profess our faith in him in return.
Text: Matthew 16:21-17:23
Title: Take Up Your Cross
Big Idea: Death is part of discipleship.
Text: Matthew 17:24-18:35
Title: If a Member of the Church
Big Idea: Jesus calls his disciples to live in community with one another.
Text: Matthew 19:1-20:16
Title: We Have Left Everything
Big Idea: Disciples must make sacrifices to follow Jesus, especially if we accept that he is the Messiah.
Text: Matthew 20:17-21:22
Title: Up to Jerusalem
Big Idea: Disciples will face significant challenges in following Jesus.
Text: Matthew 21:23-22:46
Title: He Entered the Temple
Big Idea: Jesus clearly demonstrates through his teaching and actions that he is God's chosen Messiah.
Text: Matthew 23:1-39
Title: Scribes and Pharisees
Big Idea: Disciples must be careful of following false Messiahs.
Text: Matthew 24:1-25:46
Title: Beware
Big Idea: Judgment will come to all.
Text: Matthew 26:1-27:56
Title: Truly This Man Was God's Son
Big Idea: Jesus gave all so that we could receive eternal life.
Text: Matthew 27:57-28:20
Title: First Day of the Week
Big Idea: Jesus has been raised from the dead to lead the church!
Discipleship (The Sermon on the Mount)
This series was crafted for an older, more traditional congregation following the national quarantine period related to the coronavirus pandemic. As the nation struggled between maintaining safety and restoring a semblance of normalcy, we returned to the starting point for understanding what it means to be a disciple of Jesus—the Sermon on the Mount.
The focus of the series was to unpack the rich meaning of Jesus' teachings, most of which are often overlooked, in order to develop a paradigm for what discipleship might look like in a post-pandemic context. The purpose of the series was to challenge the congregation in asking themselves if they are truly seeking after the things discussed in the Sermon on the Mount and then present real-life applications for how they could seek out these aspects of discipleship.
Series Big Idea: To be a disciple of Jesus means seeking divine wisdom for our lives.
Text: Matthew 5:1-2; 7:24-29
Title: Seeking Wisdom
Big Idea: To be a disciple of Jesus means seeking wise direction for our lives.
Text: Matthew 5:1-12
Title: Seeking Blessing
Big Idea: To be a disciple of Jesus means seeking perspectives that reflect Jesus to others.
Text: Matthew 5:13-16
Title: Seeking Purpose
Big Idea: To be a disciple of Jesus means seeking our purpose within God's mission.
Text: Matthew 5:17-20
Title: Seeking Fulfillment
Big Idea: To be a disciple of Jesus means seeking commitment in our relationship with God.
Text: Matthew 5:21-26
Title: Seeking Reconciliation
Big Idea: To be a disciple of Jesus means seeking reconciliation in all our relationships.
Text: Matthew 5:27-32
Title: Seeking Satisfaction
Big Idea: To be a disciple of Jesus means seeking satisfaction in our intimate relationships.
Text: Matthew 5:33-37
Title: Seeking Integrity
Big Idea: To be a disciple of Jesus means seeking integrity in our interactions with others.
Text: Matthew 5:38-42
Title: Seeking Justice
Big Idea: To be a disciple of Jesus means seeking justice in an unjust system.
Text: Matthew 5:43-48
Title: Seeking Love
Big Idea: To be a disciples of Jesus means seeking self-sacrificing love rather than all-consuming hate.
Text: Matthew 6:1-6
Title: Seeking Humility
Big Idea: To be a disciple of Jesus means seeking humility in all interactions.
Text: Matthew 6:7-18
Title: Seeking Connection
Big Idea: To be a disciple of Jesus means seeking constant connection with God.
Text: Matthew 6:19-24
Title: Seeking Diligence
Big Idea: To be a disciple of Jesus means seeking restraint over one's business.
Text: Matthew 6:25-34
Title: Seeking Peace
Big Idea: To be a disciple of Jesus means seeking peace in God during difficult situations.
Text: Matthew 7:1-6
Title: Seeking Temperance
Big Idea: To be a disciple of Jesus means seeking restraint in judgment and criticism.
Text: Matthew 7:7-12
Title: Seeking Generosity
Big Idea: To be a disciple of Jesus means seeking generosity for others.
Text: Matthew 7:13-29
Title: Seeking Obedience
Big Idea: To be a disciple of Jesus means seeking obedience to God in all arenas of life.
Kingdom Tales: Stories about God's Kingdom
This series has been crafted with a congregation made up of mostly Generation X-adults and under in mind, a generation raised on a heavy dose of pop culture that has witnessed both the general decline of episodic, network-delivered entertainment and the rise of connected, streaming-delivered entertainment.
The focus is to see each parable as a stand-alone story about faith and mission while remembering that they are all part of Jesus' thematic teaching ministry, a ministry that proclaimed the mission of God. Taking a story writing cue from shows like Seinfeld and Friends, the purpose of this series is to present these parables that discuss what the kingdom of heaven is and what impact it should have on the lives of contemporary disciples.
Series Big Idea: The kingdom of heaven is present and active, and invites us to participate.
Text: Matthew 13:10-17, 34-35
Title: What's with the Stories?
Big Idea: Parables provide us concrete ways to understand the abstract meaning of God's mission.
Text: Matthew 13:1-23
Title: The One About the Farmer
Big Idea: The kingdom of heaven grows in healthy soil.
Text: Matthew 13:24-30, 36-43
Title: The One About the Weeds
Big Idea: The kingdom of heaven is cultivated by God.
Text: Matthew 13:31-32
Title: The One About the Seed
Big Idea: The kingdom of heaven is not what most people expect.
Text: Matthew 13:33
Title: The One About the Leaven
Big Idea: The kingdom of heaven works in secret.
Text: Matthew 13:44
Title: The One About the Treasure
Big Idea: The kingdom of heaven brings great surprise.
Text: Matthew 13:45-46
Title: The One About the Salesman
Big Idea: The kingdom of heaven changes lives.
Text: Matthew 13:47-50
Title: The One About the Fishing Net
Big Idea: The kingdom of heaven welcomes everyone!
Text: Matthew 13:51-53
Title: The One About the Teacher
Big Idea: The kingdom of heaven reverses what is expected.
Text: Matthew 22:1-14
Title: The One About the Wedding
Big Idea: The kingdom of heaven requires commitment.
Application
The first Gospel has a single, unified focus—to present the life of Jesus in such a way that it leads the reader to baptism and discipleship. However, to leave the first Gospel's purpose or application at that would be similar to saying that a sermon only has one purpose, that of evangelism. Matthew's narrative does more than just present an evangelistic testimony. If that was his sole purpose, he could have trimmed down his 28 chapters to a handful or less.
No, there is more here, just as there is more to the local congregation than a weekly altar call. There is an invitation to join a journey, which begins in the evangelistic call and progresses toward spiritual maturity and missional engagement.
In this first Gospel, we see an author seeking to encourage and comfort his readers, many of whom are experiencing significant opposition due to their faith in Jesus (5:10-12) while also seeking to defend the legitimacy of the Christian witness from those who would try to refute it (5:17-20). Additionally, we see an author urging his readers to live ethically and morally among unethical and immoral neighbors (25:31-46) while also encouraging then to "Go therefore and make disciples of all nations, baptizing them in the name of the Father and of the Son and of the Holy Spirit" (28:19).
Matthew's narrative about Jesus' life, then, provides several key points of application to the contemporary church. First, Matthew provides a clear and powerful testimony to the life of Jesus. As a disciple, Matthew can attest to the things that he saw and heard and he presents these things in such a way as invite contemplation. Second, Matthew provides large sections of teaching not otherwise recorded. As John notes, not everything has been written down. But what has been written down has been do "so that you may come to believe that Jesus is the Messiah, the Son of God" (John 20:31). Matthew records what he does so that we will know what is expected as a disciple and so that we can teach others. Third, Matthew serves as a conduit between the Hebrew scriptures to the early church's witness. Matthew seeks to show that God is and has always been a God of mission. This way, we do not simply look back to the Hebrew scriptures and long for a time of spiritual vitality now past but that we look toward the future with a sense of hopeful expectation that God is still out front leading the church. Finally, Matthew presents a narrative that is slightly different than the other Gospels. This reminds us that there is no one correct way to preach or worship or even evangelize. What is important is that we keep Jesus—and God—at the center of all that we do.
Theological Themes
As with each of the other Gospels, Matthew is presenting a very specific theological narrative through which to understand the person and work of Jesus and, thus, God. Regardless of where one might stand on how Matthew's Jewish heritage and theological stance influences his writing, there are at least five major themes at work:
The Presence of God
In the very first scene in Matthew's narrative, immediately following Jesus' genealogy, we see the Gospel writer's focus—he aims to present a telling of the life of Jesus that reunites the human and the divine. In the beginning, God had walked on earth with humanity. With Adam and Eve, God had an intimate relationship with us, walking and talking in the garden. Sin, however, changed all of that, as Adam and Eve were banished from God's presence, although God redeemed their sin (Gen. 3:21-24). God maintains intimate relationships with Abraham, Moses, Elijah, Deborah, David, and many others, there is a disconnect—a barrier—between God and humanity.
This leads us to three realizations about God's presence: First, God will be present in Jesus. In the physical person of Jesus, God will walk with humanity in a way God has never done before. When the angel of the Lord appears to Joseph in Matthew 1, the angel announces a great change in human-divine relations. In confirming Mary's pregnancy by proclaiming that this conception was the work of God, the angel bears witness to God's missional plan to once again be among humanity. To the bewildered Joseph, the angel adds that the child is to be named Emmanuel, which means "God is with us" (1:23).
Second, God will be present in the church. The church, the community of believers following the teachings of Jesus, had not yet been established in the events recorded in Matthew's narrative. However, when Matthew is penning this narrative, the church is blossoming across the ancient world. In 18:15, Matthew uses the word ekklesia, which is translated into our English word "church." Scholars are in general agreement that Jesus would not have used this word in this context during his incarnational time. However, as a Gospel author writing several decades after Jesus' return to God, the use of this word—especially in this context—makes perfect sense. God will be present amidst the gathered community.
Third, God will be present in the world through the work of the church. Once the original twelve core disciples are chosen (10:1-4), Jesus sends them out on their first mission trip. He tells them that they are to bear witness to the power of the gospel, however they are being sent "out like sheep into the midst of wolves" (10:16). This is not because the disciples are naïve. Many of them were "of the world," so to speak. The imagery denotes both their innocence and their vulnerability. As Jesus had warned in the Sermon on the Mount, they would be "persecuted for righteousness' sake, yet they should "rejoice and be glad" for they will share in God's good work in the world (5:10-12).
Jesus as God's Son
Connected to the previous theme, Jesus' identity as God's Son is a pronounced feature in Matthew's narrative. As in Mark's Gospel, Matthew includes both divine identification scenes (the baptism, 3:13-17; the transfiguration, 17:1-13) and two scenes where the disciples proclaim Jesus' identity (14:22-33; 16:13-20). Unlike Mark, however, Matthew gives special attention to Jesus' identity in his infancy scene (1:18-25) and the motivations behind the religious leadership seeking Jesus' death (21:1ff). Then, in his expanded passion scene, Matthew notes that it was the claim that Jesus was God's Son that led to his trial before the Sanhedrin (26:57-68) and fueled the soldiers' and crowd's mockery of Jesus on the Cross (27:27-44). And yes, just as with Mark, the centurion overseeing this tragedy proclaims, "Truly this man was God's Son" (27:54)!
Jesus as Master Teacher
Regardless of whether Matthew was written with a Jewish audience in mind or not, there is certainly a more didactic or pedagogical emphasis with the first Gospel. Matthew does present Jesus as a rabbi, a teacher worthy of respect and obedience. There are five major teaching sections in the Gospel: the Sermon on the Mount (chapters 5-7); the Missionary Discourse (chapter 10); the Parables Discourse (chapter 13); the Community [or Ekklesia] Discourse (chapter 18); and the Eschatological Discourse (chapters 24-25). Jesus employs a variety of teaching techniques, including parables, proverbs, questions, and case studies, each of which sought to point the hearer closer to God.
Discipleship as Process
As James Dunn once noted, Jesus' teaching was "practical and not merely theoretical" (Jesus' Call to Discipleship, 125). In each section, we see Jesus unpack more elements of his concept of discipleship, first articulated in the Sermon on the Mount. This focus culminates in the passage known as the Great Commission, where the disciples (and us who follow in their footsteps) are instructed to go and preach to any who would hear, teaching them about and baptizing them into Christ (28:18b-20). Jesus lived a life of constant commitment for us so that we would know how to live. As Bonhoeffer once said, "When Christ calls a [person], he bids [them] come and die" (Cost of Discipleship, 89).
Interpretation of Scripture
In Matthew, we see that one can know Scripture without fully understanding it. In the temptation scene, the Adversary quotes Hebrew scripture to Jesus in order to leverage Jesus. Yet Jesus, in each case, responds both accurately and authoritatively. Also, we see the religious leaders attempt to berate and chastise Jesus with Scripture, only to be even more berated and chastised by Jesus for their efforts. We are presented a contrast in Matthew's narrative—the religious leaders only quote Scripture when it aligns with their agenda while for Jesus proclaiming Scripture (kerusso) is the agenda (4:17; 10:7). Additionally, as we see in the Sermon on the Mount, Jesus re-centers Scripture in its original context so that the disciples can fully understand what is expected of them (i.e., 5:17-48).
Binding and Loosing/Doubt and Understanding
There are at least two other secondary themes that play a significant role in Matthew's Gospel. First, there is the practice of "binding and loosing the law." Connected to discipleship, we see here the ability of Jesus' disciples to address and apply Scripture through the lens of moral philosophy. Second, there is the balance between doubt and understanding, both of which are elements of faith. Also connected to discipleship, we see an emphasis on doubt leading to understanding and, therefore, faith. This does not mean the disciples figure it out completely. Only that they know enough to continue following Jesus a little further.
My Encounter with Matthew
I cannot remember if it was my youth minister or high school Bible teacher, however someone suggested that I pick a Gospel and make it my story of Jesus. The idea was pedagogical as much as it was theological. In learning one Gospel well, I would be able to tell the story of Jesus and of my journey of faith well.
To be honest, I chose Mark's Gospel early on. I know this might not be the thing to say in an essay about Matthew's Gospel. I developed a deep love for Mark's Gospel early on and it has remained strong. My earliest interest in Matthew's Gospel was from college, when a friend of mine preached a sermon in our Wednesday night campus service that I helped facilitate. He preached on the Beatitudes and entitled his sermon "The Jesus Paradigm." This was back when the word "paradigm" was both rhetorically trendy and philosophically omniscient. It could be used to explain any meta-concept.
However, the title stuck with me, so much so that I used it as a title for a series on the Beatitudes that I preached in my first congregation (attribution given, of course). This has become one of my favorite series to revisit over the years. However, other than a sermon on prayer from Matthew 6 and maybe a glimpse at the infancy narratives, Matthew's Gospel has been mostly collecting dust on my sermonic and theological bookshelf.
Then the coronavirus pandemic hit and racial and sociological tensions soared. Early on in the pandemic, I accepted the challenge to write this introduction, knowing that I lacked a good base to work from. With my sermon planning process for the next year coming up as well, I committed myself to spending the year in Matthew's Gospel. Each series, including Advent and Easter, would come from Matthew's Gospel. Even the Thanksgiving sermon would be from Matthew 11. On top of that, I decided to teach straight through the Gospel during my online Bible study. Given Matthew's emphasis on piety and discipleship, I thought that an immersive approach would be the best way to become acquainted with Matthew's take on Jesus' life.
What I found in preaching from Matthew's Gospel, however, was not what I expected. With the twin pandemics of a global health crisis and a national justice crisis swirling around my generally quiet, small, rural Appalachia community, I found that almost every sermon from the Sermon on the Mount series connected directly to what was happening around us. I preached on Jesus' admonition to love our enemies the weekend that I wrote this, which was also only a few days after the Breonna Taylor grand jury ruling sparked more outrage and protest. I sat in the early quiet of my living room where I review my sermon and questioned whether I should preach what I had prepared. But then, I read back over Jesus' words, "
Commentaries
David E. Garland, Reading Matthew: A Literary and Theological Commentary. Reading the New
Testament Series (Macon: Smyth and Helwys, 2001).
Thomas G. Long, Matthew. Westminster Bible Companion (Louisville: Westminster John Knox
Press, 1997).
Stanley P. Saunders, Preaching the Gospel of Matthew: Proclaiming God's Presence (Louisville: Westminster John Knox Press, 2010).
Rob O'Lynn teaches preaching at Kentucky Christian University, Johnson University, and Fuller Theological Seminary, and is a minister in Ashland, Kentucky.