Preaching on Ephesians
Article
Preaching on Ephesians
An overview of the historical background and theology of Ephesians to help you develop your sermon series and apply it to your hearers.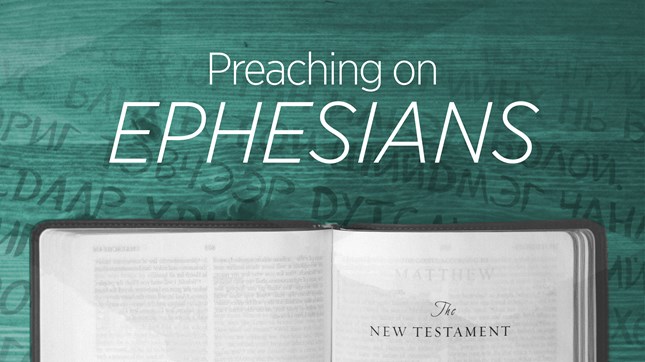 Image: Pearl / Lightstock
Historical Background
The epistle to the Ephesians holds a unique position among the New Testament letters in providing a summary of Christian faith, inclusive of worship and prayer, Jesus' saving work and the establishing of the church, the call to Christian character and reality of spiritual warfare, and much more. John Chrysostom, the golden-tongued preacher of fourth century Constantinople, said in the introduction to his homilies on Ephesians, "The Epistle itself is full of sublime thoughts and doctrines." Reformation preacher John Calvin is not alone among Christians in prizing Ephesians as his favorite letter in the New Testament.
Ephesians divides relatively neatly into two halves. The first half (Chapters 1-3) includes extensive prayer and praise intermingled with theological truths about the nature of salvation and the church. The second half (Chapters 4-6) exhorts the church as a whole and the individual Christian to live out the implications of the theological truths outlined in the first half.
Since it is general in nature, with relatively few personal references either to a specific church or to Paul, Ephesians serves as a very succinct summary of the Pauline vision of God revealed in Christ, the gospel that creates a new community, and the Christian life lived in community, everyday behavior, and interpersonal relationships.
Three important issues must be addressed when preaching from Ephesians: 1) authorship; 2) recipients; and 3) relationship to Colossians.
Ephesians begins by identifying the author as "Paul, an apostle of Christ Jesus" (1:1). Pauline authorship was attested, referenced, or alluded to in the early writings of Clement of Rome, Ignatius of Antioch, and Polycarp. It was not until the late 18th century and afterwards that Pauline authorship was questioned. The questions arose due to the impersonal nature of the letter, language, and style differences from that in other Pauline letters, similarities to Colossians, and the relatively common practice at the time of pseudonymous authorship. Each of these issues must be considered thoughtfully when preaching the letter.
This leads directly into the question of who the recipients of the letter were. While the introduction addresses "God's holy people in Ephesus" (1:1), many early manuscripts do not have the phrase "in Ephesus." Some scholars and pastors make a strong case for the letter being sent directly to the church in Ephesus, bringing in the background of Paul's extensive ministry in Ephesus, as mentioned in Acts 18-20. Others see "in Ephesus" as a later insertion, suggesting that perhaps the letter was intentionally more general in nature, originally sent as a circular letter around Asia Minor, or at least to a grouping of churches in and around the area of Ephesus. The understanding of the letter's recipients greatly shapes the preacher's approach to relevant background material for each sermon.
Related to these previous two issues lies the matter of the strong interrelationship between Ephesians and Colossians. No scholar debates whether a relationship exists between Ephesians and Colossians. Rather, the debates here revolve around the nature of that relationship. Some see Ephesians as dependent on an earlier-written Colossians, while others see Colossians as deriving from Ephesians. Some hold that Paul wrote both Epistles, while others believe that perhaps Paul wrote one Epistle but was imitated by someone composing the other. This is a difficult issue to resolve because we do not know the time delay between the writing of the Epistles, which Epistle was written first or, if they were written at roughly the same time, and whether terminology is clearly being used in different ways between the letters.
With all these issues mentioned, this present preaching guide is written from the perspective that Paul did write Ephesians, that the similarities to Colossians reflect Paul's desire to share those truths with a broader audience, and that he did so by composing a more general Epistle in Ephesians to serve as a circular letter for churches in Asia Minor near Ephesus.
Ephesians typifies Pauline frameworks for epistles with two major sections, as well as an introduction and conclusion (adapted from Lincoln, Ephesians, and Hoehner, Ephesians):
Introduction (1:1-2)
Thanksgiving for the Church (1:3-3:21)

Praise and prayer (1:3-23)
New position and new community in Christ (2:1-22)
Aside on God's mystery in Christ and Paul's ministry (3:1-13)
Return to prayer (3:14-21)

Exhortation to the Church (4:1-6:20)

Call to live in unity (4:1-16)
Call to live the new life (4:17-5:14)
Call to live wisely and in new relationships (5:15-6:9)
Call to stand firm in spiritual conflict (6:10-20)

Conclusion (6:21-24)
Sermon Series
Title: Ephesians: A Crash Course in Basic Christianity
This ten-week series on Ephesians was preached during the summer in a multi-ethnic urban church. The summertime, when many congregants travel out of town, provides a unique season to look at various facets of Ephesians as individual issues, almost like a topical series on discipleship and life within the church.
Series description: In this series we walk through the Book of Ephesians. Written by the Apostle Paul as a circular letter for young churches in Asia Minor. Ephesians covers the basics of our faith: God's plans in Jesus for humanity, the essence of the gospel, relationships inside the church, living for Christ in the world today, spiritual conflict, prayer, and so much more. This book is a crash course in basic Christianity with Paul.
Big idea for whole series: What are the basic elements of the Christian faith that serve as the foundation for growth in discipleship individually and corporately?
Text: Ephesians 1:1-14
Title: A Crash Course in God's Blessing
Exegetical Idea: Paul works through the ways that God has blessed "with every spiritual blessing in Christ" (1:3). In and around his summary of redemption, adoption, and predestination in Christ, Paul offers up a series of prayers of praise to God for who he is and what he has done.
Big Idea: We have been blessed more than we realize by God.
Text: Ephesians 1:15-23
Title: A Crash Course in Knowing Christ
Exegetical Idea: Because of the overwhelming blessings of God through Christ, Paul shifts fully into prayer for the believers that they "may know him better" (1:17). This series of prayers flows steadily into a reflection on the glories of the exalted nature of Jesus Christ.
Big Idea: We exist to know God in Christ better and better.
Text: Ephesians 2:1-10
Title: A Crash Course in the Gospel
Exegetical Idea: This text provides one of the clearest theological explications of the nature of the gospel in all the New Testament. Looking at the nature of death and sin, Paul highlights the sufficient work of Christ to bring hope and salvation to humanity. This is all wrought by God's grace, not by works, and is accessed by faith. A life offered up to God in good works is the overflow of responding to the gospel.
Big Idea: The gospel is good news in Jesus Christ about God's grace given through faith.
Text: Ephesians 2:11-22
Title: A Crash Course in Unity in Christ
Exegetical Idea: The "mystery" of God's work in Christ (3:6) is that Jews and Gentiles both partake together of God's grace and are built into "one new humanity" (2:15) through the reconciling work of Jesus at the Cross. Hostility is replaced by peace, as God builds this community of Jew and Gentile into a new "dwelling in which God lives by his Spirit" (2:22).
Big Idea: We experience relationship across divisions because Jesus is "our peace."
Text: Ephesians 3:1-13
Title: A Crash Course in the Church
Exegetical Idea: Paul interrupts his train of thought to reflect on the grace God has given him as Apostle to the Gentiles. His reflection on his own ministry leads him to praise God for fashioning together this new community, known as the church, which exists to display the "manifold wisdom of God … to the rulers and authorities in the heavenly realms" (3:10).
Big Idea: God's great and mysterious work in Jesus is to establish a new community through Jesus Christ to display his glory.
Text: Ephesians 3:14-21
Title: A Crash Course in Experiencing the Love of Christ
Exegetical Idea: Paul pulls back the veil on his prayer life, which is focused on the love of God, the power of God, and the glory of God. His prayer begins with the relationship between knowing and growing in the love of God within the Christian community. This foundation of Paul's prayer in Christ's love leads into the fathomless power of God and the magnificent glory of God.
Big Idea: God's love in Jesus Christ "surpasses knowledge" (3:19), yet is also the root and foundation of our faith life within the church.
Text: Ephesians 4:1-16
Title: A Crash Course in Church Growth
Exegetical Idea: Pivoting from theological discussion into life application, Paul urges the readers to "live a life worthy of the calling you have received" (4:1). This section offers a theological framework for individual spiritual growth that fits within a framework for corporate spiritual growth. The individual parts of the body grow as the entire body grows through focused cultivation of unity, active use of spiritual graces, and formation by God toward maturity in Christ.
Big Idea: God grows his church to become more like Jesus through spiritual gifts and specific ministries.
Text: Ephesians 4:17-5:20
Title: A Crash Course in Christlike Living
Exegetical Idea: Paul walks through a depiction of Christlike living—"a life worthy of the calling you have received" (4:1)—framed as putting off the old self and putting on the new self (4:20-24). The old self was marked by darkened understanding and impure living. The new self is marked by renewal of the mind and holiness. Paul applies this to our internal desires, the words we speak toward others, our sexuality, and many other specific activities. The endpoint of it all is being filled with the Spirit, so that our lives become praiseworthy to the Lord (5:18-20).
Big Idea: Christlike living impacts every part of our lives as we "put off the old self … and put on the new self" (4:22, 24).
Text: Ephesians 5:21-6:9
Title: A Crash Course in Christ-Centered Relationships
Exegetical Idea: Paul now applies the calling to live worthy of Christ by putting of the old self and putting on the new self to the sphere of relationships. Drawing upon the common household codes of his time, Paul reframes the basic social unit of the household with the gospel calling of selfless love and consideration of the other. Thus, husband-wife, parent-child, and master-servant relationships are transformed through Christ as his people live by the Holy Spirit in the attitude of mutual submission.
Big Idea: Christ-centered relationships within the Christian community are marked by selfless love and consideration of the other.
Text: Ephesians 6:10-24
Title: A Crash Course in Spiritual Conflict
Exegetical Idea: This well-known passage on the armor of God fits within living worthy of our calling in Christ by putting off the old self and putting on the new self. Spiritual conflict in the Christian life is a reality that cannot be ignored. Our victory comes through Christ, who clothes us in God's armor and equips us with the power of prayer for living and ministry. Paul concludes with final words of greeting and peace.
Big Idea: Spiritual conflict is expected in the Christian life but through Christ we have access to victory through God's character (armor of God) and power (prayer).
Application
Ephesians is a more general epistle, perhaps even a circular letter passed among churches. Because of this, Ephesians provides the preacher an opportunity to address many key theological topics in the Christian life and pertinent topics within the life of a church, such as:
God's greatness;
God's sovereignty;
predestination and election;
person and work of Jesus Christ;
the gospel;
salvation;
faith and works;
relationship of Jew and Gentile;
unity;
racial reconciliation;
the nature of the church;
ethics and the character of Christians;
spiritual formation and Christian maturity;
marriage;
parent-child relationships;
spiritual conflict;
the armor of God;
prayer.
Paul places all of the topics he will address in Ephesians within the context of the great power and plan of God. Where 1 & 2 Thessalonians bring eschatology into focus, and Galatians provides a fierce defense of the gospel, Ephesians sets its foundations within awe-inspired worship of our great God (1:3f.). This praise of God at the beginning of the letter cascades through the vastness of God's work through Jesus the Messiah, punctuating the entire epistle with worship. This serves to remind us that all of the Christian life, individually and corporately, is aimed at worship of God.
New life in Christ is a key topic in Ephesians. The Christian is saved from sin's death and made alive in Christ. This new life is marked by "grace and peace" (1:1), "redemption … forgiveness … God's grace" (1:7-8), God's "great love for us" (2:4), and more. At times, Paul seems to run short of words to describe the gracious gift of salvation in Jesus Christ which marks the new life of believers through faith. This calls for appropriate reflection on the nature of new life in Christ mingled with celebration and thanksgiving before God.
Yet, beyond individual life in Christ, Paul emphasizes new community in Christ throughout the letter. Because of God's gracious work in Christ, a new community known as the church has come into being. The summary of the gospel in the first half of Ephesians 2 leads into an exploration of the new community formed as "one new humanity" (2:15), made up of Jews and Gentiles. This new unified community must also "make every effort to keep the unity of the Spirit through the bond of peace" (4:3). This offers the opportunity to address the nature, calling, and unity of the church.
Even more, Paul calls the Christian and the church toward new living in Christ. Based on the complete work of Jesus, we are invited into a new way of living marked by "a life worthy of the calling you have received" (4:1). From Ephesians 4 onward, Paul touches on many practical aspects of living a new life in Christ, which provides the preacher an opportunity to address particular issues, such as relationships, character, immorality, greed, spiritual conflict, and more.
Theological Themes
Christology
As with its close companion, Colossians, the letter to the Ephesians brings into sharp focus both who Christ is and what he has done. While Ephesians references "Christ" more than any letter of its size in Paul's corpus, and nearly as much as the larger letters, including Romans, mention of "Jesus" alone is rare, almost always accompanied by the title of "Christ." Paul brings to clarity the nature of Christ the Son of God as distinct from the Father and the Holy Spirit, yet also preexistent before the foundations of the earth.

The work of Christ brings "every spiritual blessing" (1:3), "made us alive" (2:5), "raised us up … and seated us with him in the heavenly realms" (2:6), leads us "to do good works" (2:10), makes peace between Jew and Gentile (2:17-18; 3:6), reveals the love of God (3:16-18; 4:32), brings forgiveness (4:21), and more. A quick study of the phrase "in Christ" will reveal the depths of Pauline Christology evident in this letter.
Soteriology
Paul describes the message he is proclaiming as "the gospel of your salvation" (1:13). That good news of salvation becomes the theme of Ephesians 2, where the saving work of Christ is described as originating in God's love and mercy, bringing life that overcomes the death of transgression, and resounding with God's grace. This saving work takes effect now through reconciled relationship with God and others (2:1-22) but also looks toward total consummation at the end of life and human history (4:30; 5:27). Salvation shapes the believer's standing with God but also the believer's living on earth (4:20-24).
Sanctification
Because of the work of salvation, the Christian is invited "to do good works, which God prepared in advance for us to do" (2:10). These good works are the overflow of grace as disciples "live a life worthy of the calling you have received" (4:1). The second half of the letter provides guidance from Paul about many areas of human life—finances, words, sexuality, relationships—in which saving faith must work its way out into faith-filled living. All of this is rooted in the power of the Holy Spirit (5:19), but takes focus and discipline amidst tension between old and new patterns of living, as well as the spiritual conflict of this earth.
Ecclesiology
Ephesians offers important insights into the nature of the church based in the overriding purposes of God. Paul writes that God's intent is to make known "the manifold wisdom of God" through the church to the principalities and power through what God accomplished in Jesus Christ (3:11-12). The church is being built into God's dwelling upon earth (2:22) as it grows to become more like Christ in every way (4:15-16). Certain key phrases about the church require further attention, such as the inherent unity of the church based in the unity of God (4:3-6) and the way that Christ has appointed grace gifts for the building up of the church (4:11-13).
My Encounter with Ephesians
Early in my ministry, when I was a college pastor in an urban, multi-campus setting, I preached a series on Ephesians to help college students grasp the basics of the Christian faith. That series was probably as beneficial for me as for my students, steeping us in key biblical and theological truths for living as Christians in a post-Christian context. Background from that series many years ago, served as a foundation by which I returned more recently to preach Ephesians within the multi-ethnic church where I currently serve.
This time I wanted to help our church return to the basics of our faith. On the one hand, we have many long-standing Christians in our church, while, on the other hand, we have many young Christians in our church. I sensed that it would be good to return to the basics for both groups, inviting us to feast on the great truths of God in Christ, while placing our life as individuals and as a church before God for growth and development in holiness as a result of those great truths.
With that goal, I assembled a preaching team to develop a series on Ephesians that would offer a "crash course" in the faith, both as an introduction for those new to the faith and a reminder for those who have walked longer with the Lord. This became meaningful for the preaching team as we read Ephesians aloud together, grappled with theological truths in Ephesians, and shaped the series week by week.
I scheduled the series for the summer, hoping that, even as people would be in and out of attendance with summer vacations, each weekend would serve in some senses as a stand-alone message on certain topics, such as "the gospel," "the church," "Christ-centered relationships," "spiritual conflict," and more. We were limited to ten weekends because of other events in the church's calendar. Ten weeks was sufficient, but left us with at least one very long text (4:17-5:20) to cover on one weekend, which probably could have been better divided into at least two weeks.
We had very meaningful conversations and interactions as a church during this sermon series, including a sermon discussion group that took place each week during the series as a follow-up during one of the service times.
Commentaries
John Chrysostom, "Homilies on the Epistle of St. Paul to the Ephesians." In Nicene and Post-Nicene Fathers, edited by Philip Schaff, vol. 13, 49-172 (Peabody, MA: Hendrickson, 2004).
Harold W. Hoehner, Ephesians: An Exegetical Commentary (Grand Rapids, MI: Baker Academic, 2002).
Andrew T. Lincoln, Ephesians, WBC (Dallas, TX: Word Books, 1990).
Matt Erickson serves as the Senior Pastor of Eastbrook Church in Milwaukee, Wisconsin.