Preaching on Habakkuk
Article
Preaching on Habakkuk
An overview of the historical background and theology of Habakkuk to help you develop your sermon series and apply it to your hearers.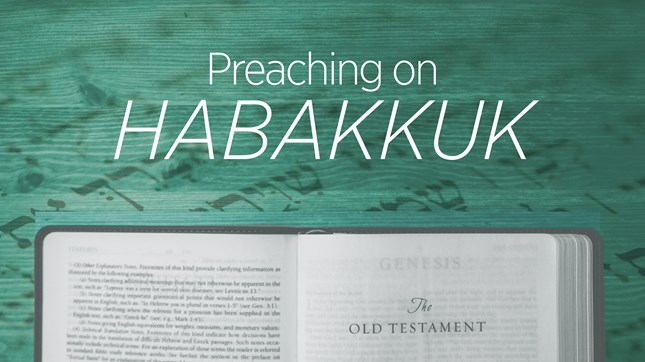 Image: Pearl / Lightstock
Historical Background
The Book of Habakkuk is part of a grouping of twelve smaller books, known as the Minor Prophets, placed together at the very end of the Old Testament. Each of these prophets received a specific word from God for his people. Some prophets were priests, some were farmers, some were advisors to kings. Unfortunately, nothing is known about Habakkuk other than what we find in this book. While he does appear in the apocryphal book Bel and the Dragon, sometimes appended to the Book of Daniel, this has no historical basis.
Habakkuk was a prophet during the last days of the southern kingdom of Judah somewhere in the timeframe of 620-590 BC but before the fall of Jerusalem in 587 BC. He likely would have been a contemporary of the prophets Jeremiah and Nahum. Habakkuk spoke during a time of great decline in the nation. The story of God's people around the time of Habakkuk's ministry looks like this:
-King Hezekiah (715-687 BC) – Great restoration of faith in God

-King Manasseh (687-642 BC) and Amon (642-640 BC) – Great darkness and sin

-King Josiah (640-609 BC) – Great reformation and return to faith

-Final destruction under the sons and grandson of Josiah (609-587 BC)
Habakkuk comes in these last days during the reign of Kings Jehoiakim and Jehoiachin. In 2 Chronicles 36, we discover that this will be the final days of the kingdom of Judah. The kingdom had been threatened by the Assyrian Empire and now the Babylonians were rising up to threaten even Assyria. In 612 BC, the Assyrian capital of Nineveh fell to the Babylonians. In the midst of this vacuum of opposition, the Egyptians moved in to dominate the land of Judah, putting puppet kings on the throne. Eventually, both the Egyptians and the Assyrians were defeated by the Babylonians in 605 BC at the Battle of Carchemish. The Babylonians then threaten the kingdom of Judah, deporting many leaders out of the country before the city of Jerusalem is ultimately destroyed in 587 BC and the full exile begins.
Habakkuk stands uniquely within the prophetic books in that there are no oracles spoken to the people of God. In fact, the entire book is composed of dialogue between Habakkuk and God. The Book of Habakkuk is organized into three major sections:
-Habakkuk's first complaint and God's answer (1:1-11)

-Habakkuk's second complaint and God's answer (1:12-2:20)

-A final prayer of trust and worship (3:1-19)
Sermon Series
Title: Turning to God in Troubling Times
This five-part series was preached in a multi-ethnic church, in an urban context, very close to multiple universities. The vision of the church was to proclaim and embody the love of Jesus Christ in the city and the world. After a guest speaker from Kenya preached a stand-alone message from Habakkuk 3, we were challenged as a church to engage with a deeper theology of suffering. Engaging both with the challenge of that guest speaker and the real-life suffering within our congregation and world, we developed this series that walked steadily through the short Book of Habakkuk. The church had moved from a series on questions about Jesus after Easter into a series on the mission of the church in Acts that lead into this series from Habakkuk. Thus, the series was both intended to equip believers in their own discipleship journey while also addressing key questions seekers might have about suffering and equipping believers to engage with those questions.
Series Description
Natural disasters … global terrorism … national tensions … difficulties in our personal lives …What do we do when we face troubling times? The Hebrew prophet Habakkuk faced circumstances not altogether very different from us. In his troubling times, Habakkuk raises his voice to God and hears answers he does not expect. In this five-part series, we will grapple with faith, fear, trouble, injustice, and worship of all-powerful God through the words of the prophet Habakkuk.
Big idea for whole series: How do we grapple with faith, fear, trouble, and injustice in light of our relationship with the all-powerful God?
Text: Habakkuk 1:1-4
Title: Crying Out When God Seems Absent
Exegeticla Idea: The first of Habakkuk's two laments begins with the prophet's agonizing question about how long God will let violence and wickedness continue unpunished. What do we do when wrong seems to carry forward in the face of a righteous God? What does it look like to cry out to God in these times?
Big Idea: It's important to know that God can handle our questions. We can ask our hard questions.
Text: Habakkuk 1:5-11
Title: Suffering and the Surprising Plans of God
Exegeticla Idea: God's first response to Habakkuk is surprising at numerous levels. God will respond to Habakkuk's call for punishment of wicked but it will come in a surprising way. The punishment of wickedness will come at the hands of an even-more wicked people. The oft-quoted phrase here, "I am going to do something in your days that you would not believe, even if you were told" (Hab. 1:5), is actually a message of surprising judgment on the nations.
Big Idea: In the midst of unforeseen suffering, our faith enables us to trust God more deeply than ever before.
Text: Habakkuk 1:13-2:1
Title: Talking with God When Pain Looms Large
Exegeticla Idea: Habakkuk lifts his voice to God in lament again but this time calls God's attention to the unending pain that his people are suffering at the hand of their oppressors. How do we respond to God when it seems that our suffering is larger than we ever thought possible?
Big Idea: When pain looms large, waiting on God helps us handle life's troubles.
Text: Habakkuk 2:2-20
Title: Faithfulness in a Confusing World
Exegeticla Idea: God's second response to Habakkuk includes a vision that gives him perspective on what's happening and five woes about the sort of person who will experience the judgment of God. It is a sobering reality, but also an encouragement to those of us trying to gain God's perspective. The end of the chapter is appropriate humility and worship before God.
Big Idea: Living faithfully to God requires clear vision of God, strong trust, and resolve.
Text: Habakkuk 3:1-19
Title: Singing the Songs of God's Salvation
Exegeticla Idea: The third chapter of Habakkuk is one of the most beautiful and heart-felt declarations of worship before a mighty God in a confusing world. Some see this final prayer as a psalm amended to the end of the prophet's words to bring us deeper into worship in light of the painful realities recorded before.
Big Idea: When we turn to God in troubling times, we learn to trust and rejoice by singing the songs of God's salvation.
Application
The people of God during Habakkuk's ministry were faced with tremendous difficulty in the years to come. It was an unstable time in terms of geopolitics and personal life. Habakkuk offers the opportunity to preach on issues like:
-God's sovereignty

-Suffering

-Judgment

-Hope

-Waiting on God

-Persecution

-Questioning God

-Faith and trust
Habakkuk's prophetic dialogue with God also offers a very compelling model for prayer. Habakkuk shows us how to be honest with God, ask questions of God, and wait upon God. Underlying the Christian life of prayer is a fundamental belief that God speaks and we respond. Habakkuk displays what that looks like within the life of a prophet, from whom all of us can learn.
Even with this in view, prophetic writings are intended for a broader audience. Habakkuk's words express the concerns of the godly over the vastness and scope of the violence of the wicked nations that stand against God. Many of us today resonate with these questions, and Habakkuk is intended to give us permission as the people of God to ask these questions and wait upon the Lord for answers. This is a corporate activity of worship and prayer that we can learn from today. In fact, many have sought to return to the lost art of lament.
In the same way, God's responses to Habakkuk are intended to be heard by the greater people of God. What is perhaps most striking about God's response to Habakkuk is that they are not necessarily comforting. God's word is that something worse will happen before things get better. Yes, eventually the wicked will be dealt with, but not before they overrun the people of God. There is a warning here that relates to the greater story of God but also the individual lives. Pat answers to suffering have no place in Habakkuk. It may get worse before it gets better provides a solid realism that can also be grounded in faith. The people of God listen to God and hold onto God in faith even if that hard realism is true.
The final chapter is a powerful declaration of faith that arises from a transforming vision of God. The preacher has an opportunity in this last chapter to lead the congregation into both of those realities. "Make much of God," many a preacher has heard from another before entering the pulpit. Habakkuk 3 is fertile ground for such a movement, and it elicits powerful statements of faith. The poetry throughout this passage must be handled with great care in order to allow the richness of Habakkuk's declaration of faith to come forth. When preaching this chapter, we have a great opportunity to help our congregation enter into a deeper life of trust with God.
Theological Themes
The sovereignty of God over the nations. God is going to raise up the Babylonians (1:4) to bring international change (1:5, 11). Yet even the Babylonians will be dealt with decisively by God (2:2-4) as he brings deliverance for his people (3:12-13). The Lord reigns over all the nations as king (2:20) and the Sovereign Lord is the strength of his people (3:19).
The suffering of a fallen world. The violence and suffering that leads Habakkuk into dialogue with God (1:1-4) is characteristic of a world caught under the impact of sin and evil. The people of God are not exempt from this suffering (1:13-17), just as it touches every people group upon the earth (1:5).
The evil of injustice and idolatry. The nations of the earth turn away from God and his ways by turning toward injustice (2:6-17) and idolatry (2:18-19). As other prophets also note, so Habakkuk indicates that these things also infect the people of God (1:4). The end of injustice and idolatry is destruction (1:11; 2:3; 3:3-16).
Suffering will eventually end. It is easy to feel like suffering will never cease, but the assurance of God in Habakkuk is that even though suffering will come soon, there will eventually be an end to it (2:2-3). God holds the nations in his hands (2:20) and will also bring the end of suffering for his people (3:12-13, 17-19).
Faith. It is no accident that the Apostle Paul's central text on faith in Galatians comes from Habakkuk (2:4). The theme of faith is expressed in prayer (1:1-4), waiting upon God (2:1), and ultimately a psalm-like expression of confidence in God no matter what may come (3:17-19).
My Encounter with Habakkuk
When a good friend and guest preacher took his sermon text from Habakkuk 3 while with my church, it sent me on a road of discovery with Habakkuk. As I studied the book I deeply resonated with Habakkuk's questions and wrestling with God. When suffering arises, whether in personal lives or the world around us, I found Habakkuk helping me learn how to engage with God. The last chapter of the book has long held a meaningful place in my own devotional life, as it has for many others. However, I found that the more deeply I understood the wrestling of the previous chapters, the more meaningful Habakkuk's declaration of faith became for me.
Commentaries
Kenneth L. Barker and Waylon Bailey. Micah, Nahum, Habakkuk, Zephaniah. NAC. Nashville: Broadman & Holman, 1998.
James Bruckner. Jonah, Nahum, Habakkuk, Zephaniah. NIVAC. Grand Rapids: Zondervan, 2004.
O. Palmer Robertson. The Books of Nahum, Habakkuk, and Zephaniah. NICOT. Grand Rapids: Eerdmans, 1990.
Matt Erickson serves as the Senior Pastor of Eastbrook Church in Milwaukee, Wisconsin.