Preaching on 1 Thessalonians
Article
Preaching on 1 Thessalonians
An overview of the historical background and theology of 1 Thessalonians to help you develop your sermon series and apply it to your hearers.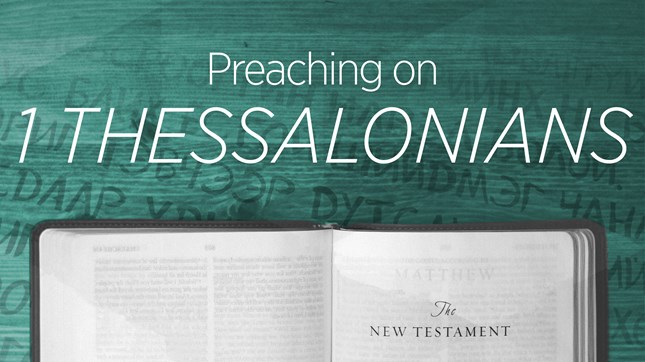 Image: Pearl / Lightstock
Historical Background
We read about the founding of the church in Thessalonica in Acts 17:1-10. On his second missionary journey, around the year 50 AD, after founding the church in Philippi, Paul went to this strategic and major city. It was the capital and largest city of the region of Macedonia. Today called "Salonika," it is a seaport and was situated on the most important road of the Roman Empire, the Egnatian Way. Thus, it was an ideal location for Paul's missionary strategy of planting churches in influential metropolitan centers. When they arrived, Paul and Silas made a beeline to the synagogue and for three consecutive Sabbaths reasoned with the Jews and God-fearing Greeks: "This Jesus, whom I proclaim to you, is the Christ" (v. 3). "Some" Jews, a "great many" of the Greeks, and "not a few" of the leading women of the city were persuaded (v. 4).
Then what happened? The Jews became jealous, as was typical in Paul's itinerate ministry. His opponents formed a mob with wicked men and "set the city in an uproar" (v. 5). The mob looked for the apostles in the house of Jason, perhaps the first convert of the city, but did not find them there, so they dragged Jason to the city authorities and libeled the apostles. The "the brothers immediately sent Paul and Silas away by night" (v. 10).
The account from Acts suggests that Paul and Silas were in the city for only three to four weeks, but Luke might have skipped details, mentioning only Paul's ministry in the synagogue on the Sabbaths. Some scholars estimate that they were in Thessalonica for as long as six months, but even at that, their ministry was fairly brief. So Paul left behind an infant church, and he later sent Timothy to check on them and establish them in the faith. To Paul's great relief, Timothy reported that the believers were standing firm in the Lord (1 Thess. 3:2, 8). However, they were being persecuted for the faith, so they needed encouragement; and they were young in the Lord, so they needed teaching on issues like sexual immorality (1 Thess. 4:1-8) and the second coming of Christ (1 Thess. 4:13-5:11). Thus, 1 Thessalonians seeks to ground young believers in Christian doctrine and ethics.
Another purpose, prominent in the first half of the book, is Paul's defense of himself. It seems that his critics maligned his conduct and motives were made doubly suspicious by his sudden departure from the city.
Sermon Series
Christianity 201: Handbook for Believers
This five-part series was preached in a seeker-targeted church very close to a major university. The vision of the church was to reach that community—students, professors, and employees of the university. Our congregational analysis revealed a very low level of biblical and theological literacy but also a very high level of interest—not unlike the recipients of 1 Thessalonians—so the goal of this series was to help new Christians grow and not-yet-Christians count the cost of becoming a disciple. The church had just finished an evangelistic series targeting the not-yet-Christians called "Christianity 101," so we followed that series with "Christianity 201." Each of the five weeks of the series was very practical as we emphasized "How to . . . ."
Big idea for whole series: Now that you have become a Christian, here are your next steps.
Text: 1 Thessalonians 1:1-10
Title: How to Tell if You're Really a Christian
Exegetical Idea: The Apostle Paul knew that the believers at Thessalonica had been converted because the gospel had come to them with power, and they welcomed it with joy as they entered the long road of discipleship.
Big Idea: Three marks indicate true conversion.
Text: 1 Thessalonians 2:1-12
Title: How to Share the Gospel: Why, How, and What
Exegetical Idea: Paul defended his ministry among the Thessalonians by showing that his motive, method, and message were pure.
Big Idea: When witnessing, check your motive, method, and content.
Text: 1 Thessalonians 4:1-8
Title: How to Live for God
Exegetical Idea: God has commanded and equipped believers to be sanctified by avoiding being sexual immorality.
Big Idea: Avoid sexual immorality.
1 Thessalonians 4:13-5:11
Title: How to Be Ready for the Second Coming
Exegetical Idea: In light of Christ's return, believers should not grieve as others who have no hope because they know that dead believers will rise, and they should be watchful and sober because they know that judgment will come suddenly on the children of darkness.
Big Idea: Live in light of living.
1 Thessalonians 5:14-15
Title: How to Serve Other Christians
Exegetical Idea: Minister to various members of the body according to their needs by admonishing, encouraging, and helping.
Big Idea: Serve each other by admonishing, encouraging, and helping.
1 Thessalonians: Jesus Christ is Supreme in the Life of the Church
I created this second series as a guest preacher for a church that was between pastors. The church had just done a series on the supremacy of Christ, and they wanted to keep that momentum going, so I was instructed to include that concept in the 1 Thessalonians series. As I created this six-week series, I was also asked to include every passage in the book. I would have preferred to take eight or nine weeks, but the series was still workable.
Big idea for whole series: Because Christ is Supreme, we live for him.
Text: 1 Thessalonians 1:1-10
Title: How to Tell if You're Really a Christian
Big Idea: The supremacy of Christ leads to true conversion.
Text: 1 Thessalonians 2:1-16
Title: How to Share the Gospel
Big Idea: Because Christ is supreme, we tell others.
Text: 1 Thessalonians 2:17-3:13
Title: How to Shepherd/Disciple New Believers
Big Idea: Christ's commission is to "make disciples" and not just "make converts."
Text: 1 Thessalonians 4:1-8
Title: How to Live for God
Big Idea: Because Christ is supreme, we walk in personal holiness and sexual purity.
Text: 1 Thessalonians 4:13-5:11
Title: How to Be Ready for the Second Coming
Big Idea: Because Christ is returning, we take courage.
Text: 1 Thessalonians 4:9-12; 5:12-28
Title: How to Get Along in the Body
Big Idea: Because Christ is the Lord of the church, we serve each other.
Application
The church in Thessalonica was young and the majority of its members were Gentiles rescued from pagan culture, so this book is ideal for addressing our own pagan culture. 1 Thessalonians gives you the opportunity to preach on issues like:
-Sexual immorality (the word is "porneia," a general word for any sex outside of marriage)

-Idolatry (note: Thessalonica is about 80 miles from Mt. Olympus, the home of the gods)

-Drunkenness

-Persecution

-Interpersonal relations in the church

-Death and grieving
The book gives a stirring model of how to share the gospel through Paul's remembrances of his own ministry in founding the church. It shows us what we can expect when we too share the gospel—opposition and encouragement.
Epistles are "task theology"—they apply rich theology to the circumstances of individual congregations and sometimes even to individual persons. Task theology permeates the Epistles as when Paul exhorts the Corinthians to raise money for the church in Judea. He grounds this "task" in the theology of God's generosity (2 Cor. 8-9): "For you know the grace of our Lord Jesus Christ, that though he was rich, yet for your sake he became poor, so that you by his poverty might become rich." When John commands his children in the faith to love each other, he locates the motive and power for that "task" in the love of God (1 John 4:7-12): "Beloved, let us love one another, for love is from God. . . . God is love."
When preaching from Epistles, this is the way to persuade and apply: ground the moral imperative in the theological indicative. If we preach imperatives without theology, we sound like scolds, heaping obligation without providing motivation or assistance.
The indicative-imperative pattern is common in Epistles and is used for the entire book and for individual passages. For example, Romans lays out the profound theology of God as creator, sovereign, judge, and savior, full of mercy, grace, and power (chapters 1-11), and then it hinges in chapter 12: "Therefore, in light of God's mercies, present you bodies to God as a living sacrifice." Ephesians does the same thing, hinging at chapter 4: "I therefore urge you to walk in a manner worthy of the calling to which you have been called."
While 1 Thessalonians is noticeably less theological than most of the other Epistles, we still see the macro-pattern as Chapters 1-3 put forward doctrine related to the gospel, conversion, and the Word of God, before hinging in Chapter 4: "Finally, then, brothers, we ask and urge you in the Lord Jesus, that as you have received from us how you ought to walk and to please God . . . that you do so more and more."
As a micro-pattern the same form of argumentation can be seen in:
Passage: 1 Thessalonians 4:1-8
Imperative (Obey): Avoid sexual immorality.
Indicative (The theolgoy behind the command): The Lord avenges those who are taken advantage of (v. 6). The Lord gives the Holy Spirit to help us obey (v. 8).
Passage: 1 Thessalonians 4:13-18
Imperative (Obey): Do not grieve about loved ones who have died in the Lord.
Indicative (The theolgoy behind the command): Jesus rose, and because they are in union with Christ, they too will rise (v. 14). We will be reunited with them for eternity (v. 17).
Passage: 1 Thessalonians 5:1-11
Imperative (Obey): Keep awake and be sober.
Indicative (The theolgoy behind the command): You have a new nature as children of light (v. 5). You are no longer darkness (v. 4).
Theological Themes
First Thessalonians emphasizes theology comparatively less than the other Pauline epistles. The terms "justification" and "grace" do not appear. The familiar contrast between law and grace is not featured. However, theology is present even in this praxis-oriented letter for those with ears to hear.
The Doctrine of God
There is one God (1:9) who chooses us (1:4) and directs our lives (3:11). He will perfect us at the coming of Christ (5:23). He is faithful to complete the work that he began (5:24).
Christology
The Son is united with the Father and this indicates his essential equality (1:1). Christ is called kurios, "Lord." The doctrine of union with Christ is implied in the opening greeting: "To the church of the Thessalonians in . . . the Lord Jesus Christ" (1:1).
The Holy Spirit
The Spirit makes the message of the gospel effective in the hearts of hearers (1:5). The Spirit gives joy in affliction (1:6) and dispenses the gift of prophecy which the Thessalonians were tending to despise (5:19-20). God gives the Holy Spirit to all believers (4:8).
Eschatology
First and Second Thessalonians form one of God's primary repositories of revelation on the end times. The second coming is referred to in every chapter of 1 Thessalonians (1:10, 2:19-20, 3:13, 4:13-17, 5:1-2, 4, 23). Of course, your own view of when Jesus will return and how literal are things like trumpets and clouds will greatly determine how you interpret those passages; but however you interpret them, make sure you hold out hope. That is the Apostle Paul's rhetorical aim—providing encouragement for confused and downtrodden young believers (see 4:18 and 5:11).
Gospel
This theme permeates the first half of the book and is a fresh wind in the sails of the preacher who would expound the glories of God's grace and power extended in Jesus Christ the Savior (See 1:5, 8; 2:2, 8, 9, 13; 3:2).
My Encounter with 1 Thessalonians
One of the blessings of being a preacher is that we get to study books "professionally," but then they end up blessing us "devotionally." That is certainly my experience as I have preached 1 Thessalonians multiple times over the years. Paul's example as a church planter has challenged me regarding evangelism and yet at the same time has made the sometimes-daunting task of sharing the gospel simpler and more do-able.
The passage on the second coming of Christ blesses me every time I preach it, as I wait for Jesus Christ to be revealed from heaven. This is our hope.
The passage on sexual immorality (4:1-8) is always keenly felt by the listeners because none of us is perfect in that regard and this vile world is no friend of grace to help us on to God.
I love how practical and direct the book is and fully expect to preach it again in years to come.
Recommended Commentaries
Michael W. Holmes. 1 and 2 Thessalonians: The NIV Application Commentary. Grand Rapids: Zondervan, 1998.
Jeffrey A. D. Weima. 1-2 Thessalonians: Baker Exegetical Commentary on the New Testament. Grand Rapids: Baker, 2014.
Ben Witherington III. 1 and 2 Thessalonians: A Socio-Rhetorical Commentary. Grand Rapids: Eerdmans, 2006.
Jeffrey Arthur is professor of preaching and communication at Gordon-Conwell Theological Seminary.