Preaching on 2 Kings
Article
Preaching on 2 Kings
An overview of the historical background and theology of 2 Kings to help you develop your sermon series and apply it to your hearers.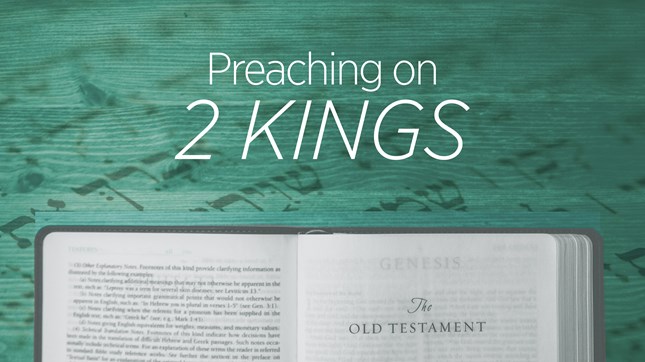 Image: Pearl / Lightstock
Historical Background
Second Kings continues the story of the divided nation of Israel and Judah that began in 1 Kings. The book begins about 850 BC with the conclusion of the prophet Elijah's ministry and the work of his successor, Elisha. The northern kingdom of Israel continued the downward path of sin (2 Kings 17:7-8). Of the twenty kings of Israel, all were evil kings. The kingdom was taken into captivity by the Assyrians in 722 BC.
Judah, the southern kingdom, had twenty kings following Solomon, only eight of whom could be called good. Ultimately, Judah's sins were punished by God using the Babylonians in the fall of Jerusalem in 586 BC. The people were exiled to Babylon for seventy years (Jer. 29:10). The book ends with the fall of Jerusalem, the destruction of the Temple, and the people taken into captivity.
Through all of this, God remained faithful to his covenant despite his people's faithlessness (cf. 2 Kings 8:19; 19:34). God will return the nation to the land of Israel under the leadership of Ezra and Nehemiah.
Preaching Tip
I wanted my people to see how practical 2 Kings is for their lives. Although we are separated from them by 3,000 years, and live in a very different culture, we serve the same God, we face the same tests of faith and temptations, and the lessons from their lives are extremely relevant. "Now these things happened to them as an example, but they were written down for our instruction, on whom the end of the ages has come. (1 Cor. 10:11).
Sermon Series
The following is a series through 2 Kings in 20 sermons. Some chapters are lengthy and so the preacher will not be able to exegete every verse, but instead will follow the broad sweep of the narrative. The book exposes sin by revealing the wicked acts of the leaders and people. (2 Kings repeats the shameful words "evil in the sight of the Lord" twenty times). But I wanted to also examine the themes of repentance, grace, forgiveness, and restoration to avoid the same theme each sermon.
Text: 2 Kings 1
Title: Who Do You Trust?
Big Idea: Seriously injured King Ahaziah consults the god Baal-zebub about his recovery.
Details: In his unbelief, King Ahaziah inquired of Baal-zebub about his chance for recovery from his fall. Elijah intercepted the messengers with the question, "Is there no God in Israel that you have inquired of Baal-zebub?" Ahaziah was told that because of his unbelief in God he will surely die.
Application Suggestion: Today we have many resources in which we are tempted put our trust: Money, Science, Medicine, Technology, Mysticism. God is the only one true and reliable one to trust (Prov. 3:5-6; Psa. 20:7; Psa. 32:8). Jesus is our ultimate trustworthy guide (John 14:6) in whom we put our faith.
Note: For the meaning of Baal-zebub, see the Theological Issues section.
Text: 2 Kings 2
Title: How to Follow God
Big Idea: Elisha is chosen as Elijah's successor and is a role model of how to follow God.
Details: Elisha's obedience to the call of God is a model of complete commitment to God. He abandoned his old way of life (1 Kings 19:19-21) and did not let anything stop his commitment (2 Kings 2:2; 2:4; 2:6). He asked for a double portion of Elijah's spirit (2:9).
Application Suggestion: To truly follow God, we must be willing to pay a price. The early disciples left everything to follow Jesus (Luke 5:11; 5:28; Matt. 19:27). We may or may not be asked to leave everything, but we must be willing to put Jesus first in our affection and priorities (Matt 22:37; Luke 10:27; Luke 9:62). Is there anything that we have resisted surrendering to him?
Text: 2 Kings 3
Title: When A Shovel Is Better Than A Sword
Big Idea: King Jehoram learns that God can use the simplest tool to win a great victory.
Details: King Jehoram asked King Jehoshaphat of Judah to join with him in battle against Moab. On the journey to battle the army ran out of water and he blamed God. Elisha rebuked Jehoram for his unbelief. The battle was won, not through the use of swords, but with shovels and God's intervention (3:16-20).
Application Suggestion: A crisis will surface a person's true attitude toward God. We will be tempted to blame God when our own wrong choices bring tragedy (Gen. 3:12; Prov. 19:3). In his mercy, Jesus may use hardship to awaken us and to draw us back to himself (Psa. 119:67, 71; Luke 15:11-32).
Text: 2 Kings 4
Title: Where Is the God of Elijah?
Big Idea: Elisha's persistent faith is rewarded with an influential 50-year ministry.
Details: Elisha had asked for a double portion of Elijah's spirit. Elisha took Elijah's cloak, struck the Jordan river, and said, "Where is the God of Elijah?" God rewarded his faith by parting the Jordan and by empowering Elisha to do the same miracles as Elijah (cf. 1 Kings 17:15, c.f. 2 Kings 4:1-7; 1 Kings 17:22, c.f. 2 Kings 4:36; 2 Kings 2:7-8, c.f. 2 Kings 2:13-15) and more.
Application Suggestion: Without faith it is impossible to please God (Heb. 11:6). Your hardships and doubts are God-given opportunities to live by faith. Jesus commanded his disciples to persist in prayer and to "keep on asking, keep on seeking, and keep on knocking" (present active imperatives in Matt. 7:7) and "to always pray and not lose heart" (Luke 18:1).
Text: 2 Kings 5
Title: This Little Light of Mine
Big Idea: A Jewish girl eagerly witnesses to pagan Naaman.
Details: A young Jewish girl is forced to be a servant in a pagan household. However, she is not bitter but shows genuine care for her master. Her faith in the true God impresses both Naaman and the king of Syria. After Naaman humbles himself he is healed and shows faith in the God of Israel (5:17-18).
Application Suggestion: 1) We are to be prepared in all circumstances to give a testimony (1 Pet. 3:15; Matt. 5:16); 2) Jesus is our role model in testifying to our faith, even in hostile circumstances, and without fear (1 Tim. 6:13; John 18:37).
Text: 2 Kings 6:1-23
Title: Open Our Eyes Lord
Big Idea: Human eyes see a vast enemy army but spiritual eyes reveal the mighty army of God.
Details: The King of Aram sent a great army to capture Elisha. Elisha prays for his fearful servant's eyes to be opened to see God's protection. Elisha then prays for the eyes of the enemy to be closed and he leads them to the fortress city of Samaria. Instead of killing the soldiers, Elisha follows Solomon's advice to give food and drink to the enemy (Prov. 25:21-22, Rom. 12:20-21) and there was peace between them for a time.
Application Suggestion: Though God might allow us to be in a terrifying situation, we are commanded multiple times in Scripture "do not be afraid" (6:16). To terrified Peter, Jesus said, "You of little faith … why did you doubt?" (Matt. 14:31). We must always trust our Savior who will never leave us or forsake us (Heb. 13:5) and who will be with us always to the end of the age (Matt. 28:20).
Text: 2 Kings 6:24-7:20
Title: The Windows of Heaven
Big Idea: In extreme danger and famine God promised immediate deliverance.
Details: The peace treaty between Syria and Israel was over. The siege became so drastic that people have even turned to cannibalism (6:28-29). Elisha then prophesied that in 24 hours food will be abundant and cheap (7:1). The Syrian army is routed by God and deserts their camp and all their supplies. Just as Elisha said, within 24 hours food was plentiful and cheap.
Application Suggestion: When you are out of resources and running on empty it is the perfect time to trust God. Jesus told his troubled followers many times, "fear not" (Luke 8:50; Luke 12:7; 12:32) since God will supply our needs (Matt. 6:25-34).
Text: 2 Kings 8:1-6
Title: In His Time
Big Idea: The Shunammite returns to Israel at exactly the right moment.
Details: Elisha had advised the Shunammite to leave Israel for seven years (2 Kings 4:8-37). On her return, the woman asks the king for her land to be returned. On that exact day Gehazi was speaking to the king about her. He told the king, "This is the very woman of whom I am speaking." The king then ordered that her property and all the produce for the last seven years be restored to her.
Application Suggestion: 1) There is no such thing as luck or coincidence for God's people. God is in control of all events (Rom. 8:28) and his timing is perfect (Ps. 27:14). 2) God always gives his people advance knowledge of judgment for their protection. This was true of Noah, Lot, Rahab, the Shunammite, and the church today (1 Pet. 4:7).
Text: 2 Kings 8:7-15
Title: The Tools of God's Discipline
Big Idea: A murderous schemer will be used by God to discipline Israel.
Details: Hazael was sent by Ben-hadad to ask Elisha if he would recover from his illness. Elisha wept over the vision of destruction which Hazael would inflict on Israel (10:32–33; 13:3ff.). Hazael's cruel domination of Israel was part of God's discipline of his people for their idolatry.
Application Suggestion: God has sovereign control over all nations and people to accomplish his good purpose. Even in times of hardship, tragedy, and heartache, we can "give thanks in all circumstances" (1 Thess. 5:18) because we trust God to "work all things together for our good" (Rom. 8:28).
Note: How can God use the wicked to discipline his people? See the Theological Issues section.
Text: 2 Kings 9-10
Title: Truth or Consequences
Big Idea: Jehu is chosen by God to bring the consequences of sin upon Ahab's family.
Details: Jehu is anointed king over Israel (cf. 1 Kings 19:16-17). God foretold the judgment he would bring to wicked Ahab and his family. Jehu immediately began the slaughter of Ahab's family. Thus, he eradicated Baal worship in Israel (10:28).
Application Suggestion: The wicked believe there are no consequences for their sinful life choices (Ps. 10:4; 2 Peter 3:1-15). This is a grave error for God's judgment for sin is coming and it will be devastating. However, all who have trusted Christ as Savior can never come under God's wrath (Rom. 5:1; 5:10; Rom. 8:1; Col. 2:13-14).
Note: Was God pleased or angry with the slaughter that Jehu carried out? See the Theological Issues section.
Text: 2 Kings 11-12
Title: The Spineless King
Big Idea: King Joash restores true worship of God nationally but fails in personal obedience.
Details: Wicked queen mother Athaliah takes the throne. She immediately killed all the royal offspring. Young Joash (aka Jehoash) is protected until his seventh birthday when he is crowned king. He did many things right during his reign (11:17; 11:18; 12:1-16). However, a key phrase reveals his heart: "all his days in which Jehoiada the priest instructed him" (12:2). He was faithful to God only while his godly mentor Jehoiada was alive, and he then revealed himself to be weak and unbelieving (2 Chron. 24:17–18).
Application Suggestion: Joash is a prime example of a failed personal spiritual life. His "faith" was solely dependent on his mentor Jehoiada. Each of us should ask ourselves, on what or whom does my faith depend? Is it another believer or do I have a personal heart relationship with God (Rom. 10:9-10; 2 Cor. 13:5; Col. 1:23)?
Text: 2 Kings 13
Title: Dead Man Walking
Big Idea: King Jehoash mourns Elisha's death but failed to fully trust in God.
Details: The prophet Elisha is dying and King Jehoash showed his great respect for him. Elisha then tested his faith. Jehoash failed the test and was told that he would only win three victories over Syria. The startling pericope of the dead man being restored to life was surely meant to encourage the king to put his trust in the unfailing promises of God revealed by Elisha.
Application Suggestion: This is a story of missing out on the best that God can provide through lack of faith. We can limit God's answers by unbelief. Jesus was not able to perform miracles at times because of the unbelief of people (Matt. 13:58).
Text: 2 Kings 14
Title: Looking for Help in All the Wrong Places
Big Idea: Amaziah began by pleasing the Lord, but then he veered away in disobedience.
Details: Amaziah began well and won an important battle (2 Kings 14). However, he doubted God as shown by hiring soldiers from Israel, in the extreme sin of taking the idols of Edom back to Judah, and going to war with Israel (2 Chr. 25).
Application Suggestion: Are there idols in your life? An idol is anything you put in a higher place in your life than God. What is the object of your trust, guidance, and devotion? In his temptation Jesus is our role model "Worship the Lord your God and serve him only" (Matt 4:10).
Text: 2 Kings 15
Title: When Bad Things Happen to Good People
Big Idea: King Azariah did right in the eyes of the Lord and then the Lord gave him leprosy.
Details: This episode raises questions: Is God unfair? Does God reward good with evil? It is only by reading 2 Chron. 26:1-18 that we get the answer to our questions. In that passage Azariah's pride, ego, and hunger for power are exposed as what brought the judgment of God.
Application Suggestion: God's discipline in our lives when we wander is often the best thing that can happen to us (Ps. 119:67, 71, 75; Heb. 12:4-12).
Text: 2 Kings 16
Title: Stress Tested
Big Idea: Ahaz was tested and turned away from God.
Details: God allowed Ahaz to be tested by the threat of an invasion. Though he was extremely wicked, God sent Isaiah to him in an act of grace and gave him a sign (Isa. 7:1-14). Instead of trusting God he put his faith in the pagan king of Assyria and his idols.
Application Suggestion: Are there problems in your life that cause you to doubt God and to become desperate for help from any source? God allows these things to test our heart and reveal what is truly in it (Deut. 8:2; 16; Exod. 16:4; 1 Pet. 4:12).
Note: Did Ahaz actually sacrifice sons to Baal in the fire? See the Theological Issues section.
Text: 2 Kings 17
Title: We All Fall Down
Big Idea: The kingdom of Israel falls and is taken into exile.
Details: Under King Hoshea the people continued their idolatry and compromise with the pagan nations. Assyria invaded and carried the people into captivity. The sad, rebellious history of Israel is reviewed in this chapter.
Application Suggestion: God gives hope to his people after his discipline (Deut. 30:1-5). Jesus taught that there is a path back to God after discipline and repentance (Luke 15:7; 15:11-32; 24:47).
Note: 2 Kings 17:24-33 – This passage explains the origin of the nation of the Samaritans which figure prominently in the New Testament.
Note: What does it mean to "pass their sons and daughters through the fire"? See the Theological Issues section.
Text: 2 Kings 18-19
Title: The Power of Prayer
Big Idea: King Hezekiah trusted God, unlike the evil kings of fallen Samaria.
Details: Hezekiah's obedience to God is highly commended (chaps. 18–20). Second Kings devotes more space to Hezekiah than to any king except Solomon. However, he stumbled in his faith in the threat from Assyria. Then Hezekiah went to God with a superb prayer in which he uses the names Yahweh (9x) and Elohim (5x) (19:1-19). Isaiah is sent with a message of deliverance. In the morning, Sennacherib woke up in a graveyard.
Application Suggestion: A humble prayer of confession and expression of faith in God can turn disaster into triumph. Jesus is our role model of prayer under stress (Heb. 5:7). When we put our full trust in God, he will do more than we can ask or imagine (Eph. 3:20).
Text: 2 Kings 20
Title: The Power of Pride
Big Idea: Hezekiah's heart is tested by God, but he failed the test.
Details: Hezekiah is healed from a terminal illness. His heart was then tested and revealed his pride (2 Chron. 32:31). Because of his pride in showing the wealth of his kingdom to the Babylonian envoys, the kingdom will fall.
Application Suggestion: We are all vulnerable to pride which will inhibit God's blessing. But the truly humble heart will be exalted (James 4:6, 10; 1 Pet. 5:5). Jesus is our role model of humility in doing the Father's will (Phil 2:5-8; Matt. 26:39, 42).
Note: Was Manasseh born because Hezekiah's life was extended by 15 years? See the Theological Issues section.
Text: 2 Kings 21
Title: The Power of Repentance
Big Idea: King Manasseh led Judah to sin more deeply than the pagans, but he later repented.
Details: Manasseh promoted great evil in Judah. He killed the prophets God sent to warn him (21:16, possibly even Isaiah, Heb. 11:37). Second Chronicles 33 gives the story of his humiliation (33:11) and humble repentance (33:12). On his return to the land, he undid much of his former evil (33:15-16).
Application Suggestion: The greatest sinner who shows heartful humility will move God to forgive the greatest sins. God is merciful and forgiving to all who repent. (Jer. 29:12-14; Psa. 32:5; 51:4). Today, Jesus Christ the Righteous One is our advocate who speaks to the Father when we sin. He has atoned for our sin (1 John 2:1-2).
Note: What does it mean to "pass his sons through the fire"? See the Theological Issues section.
Note: Why doesn't 2 Kings mention Manasseh's repentance? See the Theological Issues section.
Text: 2 Kings 22-23
Title: The Eye of The Storm
Big Idea: The rule of King Josiah is a time of God's blessing before his judgment.
Details: The coming storm of God's judgment has a brief window of calm during the reign of godly King Josiah. This time of blessing does not change God's decision to punish Judah, since the reform of the people did not come from the heart.
Application Suggestion: Currently our world is in the "eye of the storm" – just before the prophesied judgment of God. It is a time of grace for the saved to "wake up" and for the wicked to repent and be saved (Rom. 13:12; 2 Cor 6:2; 1 Pet. 4:7). Jesus warned people many times to "be ready for the Son of Man will come at an hour when you do not expect him" (Matt 24:44; 25:13; Luke 12:40; 21:36).
Note: 2 Kings 23:15-18 – God is always faithful to fulfill prophesy, though years may pass. See the Theological Issues section.
Text: 2 Kings 24-25
Title: The End of God's Patience
Big Idea: After repeated warnings, the prophesied judgment has come to Judah.
Details: God was very patient with his sinful people, but after repeated warnings by the prophets, his patience is at an end. In the reign of King Zedekiah, the Temple of God is destroyed and the people are taken to captivity. To human eyes, there is no hope. However, God is faithful to his covenants (Gen. 17:7; 2 Sam. 23:5). God promises that he will eventually restore them after this awful judgment (2 Chron. 36:20-23; Jer. 29:10).
Application Suggestion: Because God is patient, sometimes people feel that sin will never be judged. Jesus warned about this dangerous misconception when he reminded sinful people about the sudden judgment during Noah's time (Matt. 24:36-51, cf. 2 Pet. 3:1-13).
Theological Themes
God Is Sovereign
God is very active in the affairs of nations in 2 Kings and determines their destinies. God chooses kings (9:6), he gives victory in battle (19), he uses pagan nations to punish his sinning people (17; 24), he speaks through his prophets (7:1; 9:36; 20:16), he controls nature (3:15-16), and performs miracles (4:1-7; 4:32-37; 5:10; 13:21).
Christology
There are many angelic appearances in the OT, but the phrase "the angel of the Lord" (with the definite article) specifically applies to a preincarnate appearance of Jesus (cf. Gen. 16:7-12; Exo. 3:2; Jud. 2:1-4). His appearance provides a rich study of the person and work of Christ in his preincarnate state. In 2 Kings he rebukes a faithless king (1:3), gives the promise of safety to Elijah (1:15), and works a mighty victory over the army of Sennacherib (19:35). The name "Jesus" literally means "Yahweh saves" and this is on full display in 2 Kings as he provides salvation and cares for his people in their weakness.
God Tests the Heart
God constantly examines the hearts of his servants for faith, humility, and love for himself. The test is always stressful and unpleasant but it is necessary for growth. This is a major theme of the OT (over 20x—Deut. 4:34; 8:2; 13:3; Judg. 2:22; 1 Chr. 29:17; 32:31; Job 23:10; Psa. 7:9; 17:3; 26:2; 66:10; 139:23; Eccl. 3:18; Isa. 48:10; Jer. 17:10; 20:12; Zech. 13:9; Heb. 11:17).
God Always Fulfills Prophecy
No matter how many years pass, God is faithful to his prophetic word. Second Kings 23:14-18 records the exact fulfillment of a prophecy made 300 years prior in 1 Kings 12:33 and 13:1-2.
God Forgives the Truly Repentant
Manasseh's wicked behavior, among the most wicked and depraved in 2 Kings, is a showcase of God's great mercy. In Assyria he came to his senses, repented, was forgiven, and allowed to return to Judah to attempt to undo the evil he had done. (For why this is not mentioned in 2 Kings, see Warren W. Wiersbe, Be Distinct (UK: Victor, 2002), p. 151).
Theological Issues
2 Kings 1:2-3
What is the meaning of Baal-zebub? In the Hebrew it literally means "lord of the flies" or "lord of filth." It may be an intentional corruption of the title "Baal Zebul," ("Baal the prince"). Matthew 10:25 uses "lord of flies" as a derogatory term for Satan.
2 Kings 8:7-15
How can God use the wicked to do his will? All created beings are under God's sovereign command. God can use the unrighteous to do his will: God used Satan to refine Paul (2 Cor. 12:7) and to punish the sinful (1 Cor. 5:5). He also uses wicked nations (2 Kings 15:29: Hab. 1:12-17) and pagan kings (Isa. 45:1) all without compromising his holiness. The crucifixion of Christ is the ultimate example of how God can use wicked people to bring about his holy will (Luke 24:7; Acts 2:23). At the same time God does not sin (Jam. 1:13) and his way is perfect and just (Deut. 32:4; 2 Sam. 22:31; Ps. 18:30).
2 Kings 9:1-10 and 2 Kings 10:30 with Hosea 1:4-5
Was God pleased or angry with the slaughter that Jehu carried out? For a good discussion see: D. A. Carson et al., eds., New Bible Commentary (Downers Grove: Inter-Varsity Press, 1994), p. 370; and Robert B. Chisholm, Jr., "Hosea," in The Bible Knowledge Commentary, vol. 1 (UK: Victor Books, 1985), p. 1380.
2 Kings 16:3; 17:17
"Pass through the fire." Did Ahaz and others actually sacrifice sons to Baal? Such passages as 2 Kings 16:3; 17:17, 21:6; 23:10 have been interpreted in two ways: A) The children are unharmed as an act of dedication to Molech. (See Donald J. Wiseman, 1 and 2 Kings, TOTC, (Downers Grove: IVP, 1993), p. 277); B) They were burned alive in a gruesome sacrifice. (See Keil and Delitzsch, Commentary on the Old Testament, vol. 3 (Peabody: Hendrickson, 1996), page 284.)
2 Kings 20:1-11
Was Manasseh born because Hezekiah's life was extended by 15 years? Hezekiah had become king at the age of twenty-five (2 Kings 18:1) and died in 687 BC. His son Manasseh became king in 687 BC at the age of twenty-two, which means he was born in 709 BC, so he would have been seven years old when Isaiah told his father he was going to die. (Warren Wiersbe, Be Distinct, "Be" Commentary Series (UK: Victor, 2002), p. 129.)
My Encounter with 2 Kings
I initially wanted to preach 2 Kings because many in the congregation are not familiar this book. However, as I dug into the text, I also had to reflect on what God was saying to me. I want to remind myself that the applications should first apply to me. For example, Hezekiah was obedient and blessed (2 Kings 20) but ultimately fell into pride. God has used me in ministry but I am also very susceptible to pride. When God blesses a sermon, and there is growing attendance, and praise from people will I humble myself to God for his blessing or take credit myself? If I am praised by all people, but God is not pleased with my heart, I have failed. If I am criticized by all people, but God is pleased with my heart, I have succeeded.
Commentaries
Donald J. Wiseman, 1 and 2 Kings: An Introduction and Commentary, Tyndale Old Testament Commentaries (Downers Grove: InterVarsity Press, 1993).
Paul R. House, 1, 2 Kings, The New American Commentary (Nashville: Broadman & Holman Publishers, 1995).
R. D. Patterson and Hermann J. Austel, "1, 2 Kings," in The Expositor's Bible Commentary: 1 & 2 Kings, 1 & 2 Chronicles, Ezra, Nehemiah, Esther, Job, ed. Frank E. Gaebelein, (Grand Rapids: Zondervan, 1988)
William Crockett, A Harmony of Samuel, Kings, and Chronicles: The Books of the Kings of Judah and Israel (Grand Rapids: Revell, 1897).
David Finch is a retired pastor, after 29 years in ministry, he is also a free-lance editor for Preaching Today.