How Prayer Transforms Prep
Article
How Prayer Transforms Prep
Ongoing prayer has an irreplaceable, revolutionary role in sermon preparation.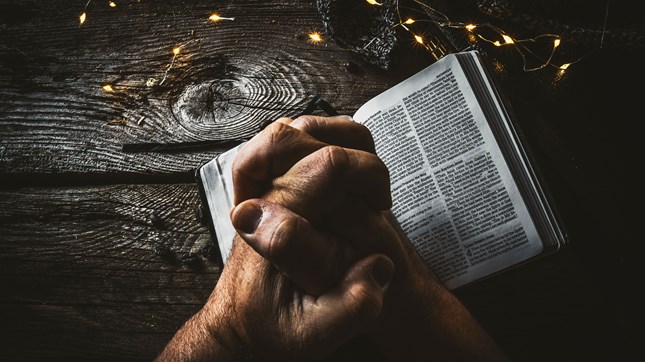 Image: Timothy Eberly / Unsplash
If you're a preacher, I know you pray for your sermon at least once a week. As you're walking toward the front on Sunday morning, your prayers are flying thick and fast, and all with the same theme: Help! I don't mean you're in a panic. But there's no denying the vulnerability of that moment, when you feel your own inadequacy in the face of the awesome task of becoming the voice of God to your congregation. You know people are there who need to hear something more than an inspiring thought or a tip on life. They need to hear from God, and if it's going to happen, it's going to happen through you. But who are you? As Jesus said, "Apart from me you can do nothing," (John 15:5). That includes preaching, and so we pray!
What happens when prayer moves from being an afterthought in sermon preparation to our every thought?
But beyond that existential moment of truth each week, does prayer play a role in your sermon preparation? Should it? Beyond asking God to give you an understanding of your text and a heart for your people, is there anything more to do in prayer? I think there is. Too many of us preachers treat prayer as if it's simply a step in the process, somewhere between reading the text for the first time and finding our illustrations. What we need is to regain a theological vision of prayer in which it becomes the posture of the preacher, for before our people can hear from God through us, we must hear from God first. And hearing from God through his Word is the fundamental work of prayer.
Humility
Prayer is often described as the pouring out of the heart to God, and that is surely right. Even a brief glance through the Psalms demonstrates that. But in our postmodern age, that idea is all too easily misunderstood, even by the preacher. We live in a culture and time that values self-expression above all else. We don't want to sell out. We're suspicious of anything that comes across as artificial or produced. Authentic, fresh, real are our buzzwords. And it's affected the way we think about prayer; it's affected the way we pray. When we pray, we're keeping it real with God; we're telling him what's on our mind, what's going on in our heart, what we're concerned about or what we need. And that's about it.
And that's a problem, because in Scripture, pouring out our hearts to God is never the point of prayer. It's only the beginning. The point of prayer, the end of it, isn't self-expression; it's realignment, as our hearts assume a posture of dependence and humility before God. How does prayer do this? It does it by placing our needs in the perspective of his sufficiency, by placing our problems in the perspective of his sovereignty, and by placing our desires in the perspective of his will. When we pray, we're not engaging in a monologue. Ours may be the only voice we hear, but we're definitely not the only ones speaking. Rather, in prayer, we're inviting God to have the last word with us, and for his Word rather than ours to shape and define us. As the psalmist declares, "I meditate on your precepts and consider your ways. I delight in your decrees; I will not neglect your Word," (Psalm 119:15-16).
So not only the first step, but the constant attitude of the preacher in sermon preparation must be prayer. This means far more than a quick prayer for wisdom and insight into the text before we move on to the work of exegesis. Prayerful meditation on the text should be our posture throughout the week. For me, that means meditation and prayer on the text every morning as part of my own devotions. I'm not trying to get a jump on sermon preparation. Exegesis and outlining doesn't begin in earnest until Thursday. Rather, in prayer I'm seeking to humble myself before God's Word, allowing it to plow up the soil of my own heart, so that when I finally come to preach, it's not my agenda and my desires that control, but God's. Prayer humbles the preacher, so that he is a fit instrument in the hands of the Redeemer.
Instruction
What are the tools you use to understand the meaning and significance of the text you're going to preach on Sunday morning? Commentaries, software programs, and a good concordance immediately come to mind, but so should prayer. Through prayer, the author of the Scriptures, the Holy Spirit, gives the preacher spiritual insight and understanding. Again, as the psalmist says, "I have more insight than all my teachers, for I meditate on your statutes" (Psalm 119:99). One of the ways the Holy Spirit does this is through the illumination of our minds. Sometimes this illumination is given immediately (Luke 12:11-12). But I'm not really talking about mystical feelings or audible voices. Normally, this insight comes as we pursue the hard work of study—translation, exegesis, reading, and so on—but pursue it prayerfully.
The author of Psalm 119 doesn't claim to have no need of teachers. Ezra didn't just wake up one day understanding God's Word ("Ezra had devoted himself to the study and observance of the Law of the LORD, and to teaching its decrees and laws in Israel," Ezra 7:10). Even Jesus gave himself to study ("After three days they found him in the temple courts, sitting among the teachers, listening to them and asking them questions. Everyone who heard him was amazed at his understanding and his answers," Luke 2:46-47). But throughout the Scriptures, God's messengers seek to understand God's Word with the assistance and instruction of the Spirit in prayer.
Do you first pray the Scriptures before you try to preach them? One of the habits I learned from an older preaching mentor was to praise God in prayer for something I saw revealed about him in the passage I was going to preach—and not just privately. In our elders' meetings and staff meetings, we begin by reading the passage for the coming week, and then spending time praising God for what we see about him in that passage. Week after week, I come away instructed about both the text and the God of the text. I will have thought that I had seen all there was to see in the passage, but as I pray with my fellow staff and elders, the Holy Spirit instructs me through them, and I walk away with a richer vision of the passage to be preached. As preachers, we may be the most theologically trained people at the prayer meeting, but the Holy Spirit is no respecter of diplomas. Through prayer, privately and corporately, the Spirit teaches the preacher what he has said, and what we need to say.
Sympathy
Preparing sermons is more than just figuring out what the text means. It's also about what the congregation needs to hear. And if you're like most preachers, you probably have an opinion about what your congregation needs to hear most. But all too often, that means our sermons are shaped as much by our own hobby horses as they are by the text or the Spirit. Whether the issue is abortion or feeding the hungry, world missions or personal evangelism, healthy marriages or community service, most of us have our favorite points of application. And even if you're not sure what your favorite issue is, your congregation probably knows what it is.
Through prayer, and specifically as we pray through our text for our congregation, the Holy Spirit moves us from what we want for our people to what he has for his people. The psalmist prays, "Let me understand the teaching of your precepts; then I will meditate on your wonders. My soul is weary with sorrow; strengthen me according to your Word," (Psalm 119:27-28). In our congregations there are people who need a bigger view of God, who need to find hope in the midst of discouragement, and comfort in the midst of sorrow. In our congregations, there are people who need to know the power of God to forgive, restore, and reconcile through Christ. They don't need our agenda, our priorities, or our programs. What they need is the wisdom of God for their lives, according to his Word. As we pray the Scriptures for them during our sermon preparation, the Holy Spirit moves us to understand our congregation from his divine perspective.
In my own practice, this involves praying each day for some of my members by name out of the text I'm going to preach on. As I do this, I move beyond the circumstances of life—health, jobs, and relationships—to the spiritual realities that really matter. I feel their spiritual weakness and rejoice in their spiritual growth. I bear their burdens and sorrows, and long for their future glory.
Prayer like this produces divinely directed sympathy for the congregation, and that leads to divinely directed agendas in our sermons. We're not content any longer with applications that are little more than pious platitudes or personal hot-buttons. Instead, through prayer, our sermon applications reflect the heart of God for his people, as he speaks to them through his Word.
What happens when prayer moves from being an afterthought in sermon preparation to our every thought? God will humble our hearts, illumine our minds, and enlarge our spiritual affections. Our people need to hear from God. It's his Word that saves them, his Word that conforms them to the image of his Son, his Word that leads them through this life. How will they hear, unless we preach? How can we preach, unless we have first heard through prayer?
Michael Lawrence is pastor of Hinson Baptist Church in Portland, Oregon, and author of "Biblical Theology in the Life of the Church" (Crossway).