Webinar: Preaching the Joy of Easter in Hard Times
Article
Webinar: Preaching the Joy of Easter in Hard Times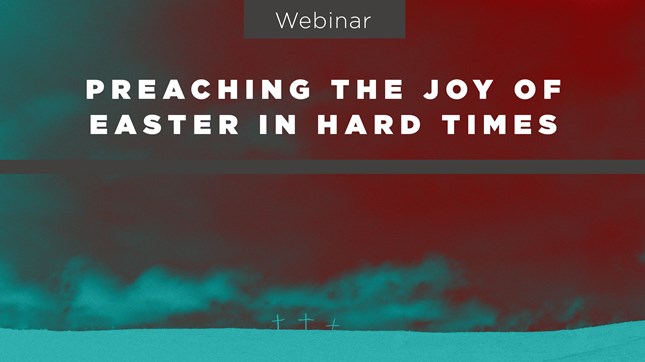 Preach with Confidence this Easter
Need to inject some energy and fresh ideas on how to approach biblical texts for Easter 2021? Feeling weary and need some words of encouragement? Matt Woodley is joined by Pastor Darrell Johnson (50 years of preaching Easter sermons) and Bishop Benjamin Kwashi (38 years of preaching Easter sermons) as they share honest, personal stories on how they've preached on Easter in the midst of their hardest ministry seasons.
They'll share ways to refocus this season on the implications of the Resurrection for your church and our world (what John Stott called "the up-to-the-minute relevance of the Resurrection"). If you're stuck or struggling with what to do this Easter, our hope is you'll walk away with a handful of good possibilities.
Highlights from the Webinar
Benjamin Kwashi and Darrell Johnson answer the question about their hardest Easter sermon they have ever preached – 4:20-11:54
Benjamin Kwashi challenges us to live the truth that Jesus is alive: 23:52-25:02
Darrell walks us through his Easter text and Big Idea: 26:25-31:42
Benjamin walks us through his Easter text and Big Idea and the importance of living the risen life: 33:30-37:41
Darrell's challenge to preachers—Stay in the Book and Tell the Story: 41:30-42:52
Benjamin's challenge to preachers—Tell the Story, Study It, Believe It, Live It: 43:20-44:15
Are Christians, today, more afraid of death? 45:02-47:11
Should we preach shorter sermons? 50:35-56:40
Resources for Holy Week Preaching
Holiday pages (featuring Sermons and Sermon Illustrations): Easter, Palm Sunday, Good Friday
Preaching Guide: Preaching on Easter
Monday Morning Preacher Podcast: Preaching on the Resurrection and Preaching During Easter
10 Angles for Preaching on Christ's Death, by Joel Gregory
Matt Woodley is the pastor of compassion ministries at Church of the Resurrection in Wheaton, Illinois.