Preaching in a World of Confusion
Article
Preaching in a World of Confusion
God exceeds our Palm Sunday expectations on Easter Sunday.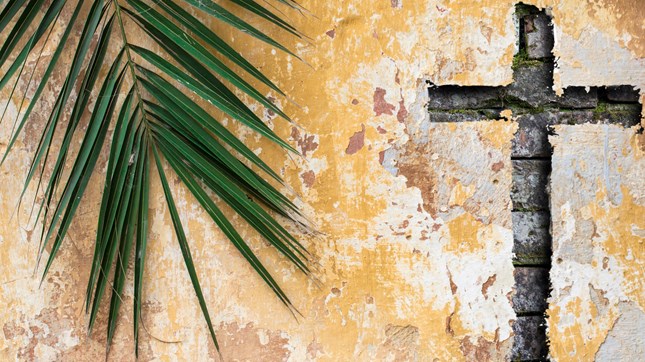 Image: azerberber / Getty Images
Confusion abounds in the world we inhabit; it also shows up in the Word we inhabit. The people of God since the Genesis of creation have experienced the human angst of confusion. Paul wrote, "God is not a God of confusion but of peace" (1 Cor. 14:33). Yet so often we find ourselves feeling our way through the dark, not knowing where to step next. COVID fears, political polarization, racial tension, financial instability, and war have exacerbated the uncertainty. The world as we know it is gone; a death of sorts has occurred. The death of expectations, familiarity, and predictability inevitably leads to confusion. If God is God, then why is this happening? This is not a new human inquiry.
Bailing on Jesus and Resurrection Joy
The first disciples were Jewish. As such, they expected Jesus the Messiah to restore political power to the Jews, who were being oppressed by Rome. When Jesus came into Jerusalem on what we call Palm Sunday (see Mark 11:1-11), their hopes for a political revolution were heightened. The people "spread branches," a sign of military victory. They referred to "the coming kingdom of our father David." King David represented the best days for the Jews. When David reigned, the Jews were on top of the political world. They associated Jesus with David, expecting the former to be a warrior-like Messiah who would lead a revolt against Rome.
That was Palm Sunday. On Good Friday, a few days later, they experienced the death of their Messianic expectations. Jesus was arrested, tried, and crucified. In their confusion, even the most committed disciples abandoned their hope in Jesus. They were confused about the way things went down.
What they didn't realize was that on the heels of the Good Friday death of their expectations comes the Easter Sunday resurrection of hope, when God exceeded their expectations. First century Jewish Christians expected political liberation from Rome. They were confused when that didn't happen, when God failed to do what they hoped he would do. But God did more than they could "ask, think, or imagine." God liberated them from the power of sin, death, and lifeless living.
So many people abandoned Jesus between the Good Friday death of their expectations and the Easter Sunday exceeding of expectations. In their impatient confusion about the will and way of God, they bailed on Jesus and missed out on resurrection joy.
Building Bridges
Our contemporary context is smack dab between crucifixion and resurrection. And, let's face it, so many seem to be bailing not just on the church but on God. Why won't God put an end to this COVID crisis? Why does injustice continue even after being exposed? Why is civil discourse so evasive in a society that boasts of progress? Why is my marriage not what I hoped it would be? Why can't I find a job? Why does my addiction keep getting the best of me? Why won't God do what I want, hope, and expect him to do when I expect him to do it?
There are preaching bridges to be built between the world we inhabit and the Word we proclaim when it comes to human confusion. Here are some building materials to construct the bridge.
Be Honest About the Bad News
It's important for preachers to be honest about the bad news people know before we proclaim the good news for which they hope. Sometimes preachers are tempted to skip the bad news and go right to the good news. That's a mistake in the post-Christian and biblically-illiterate context in which we find ourselves. If the preacher doesn't name the bad news with brutal honesty, the preacher comes across as if living in a la la land, very distant from where listeners suffer.
Be Hopeful About the Good News
If we are brutally honest about the bad news of confusion resulting from God not meeting our Palm Sunday expectations, we gain credibility to proclaim the good news that God so often exceeds our expectations on Easter Sunday. The good news is that God is not bound to do what we want him to do or think we need him to do. He does what is best for us. The Jews wanted vindication, but God was bent on something better—their formation. Thank God he doesn't meet our expectations. That's the good news.
Employ the Four Pages Sermon Form
Paul Scott Wilson's masterful book, The Four Pages of the Sermon, lays out a helpful sermon structure that bridges the bad news and good news of the biblical text with a corresponding problem and grace in the contemporary context. This sermon structure practically forces the preacher to bridge the gap between the "there and then" of the text with the "here and now" of the context.
The four pages, or moves, are: Problem in the Text (PT), Problem in the World (PW), Grace in the Text (GT), and Grace in the World (GW). These four movements could be sequenced in a variety of ways in addition to the flow above: PT, GT, PW, GW; or PW, PT, GW, GT; or PT, GT, PW, GW; or PW, PT, GT, GW. The variety allows you to utilize the form often while avoiding the homiletical curse of predictability.
Shepherding Our Flocks Through Seasons of Confusion
Pastoral ministry has been challenging since the days of Paul. Today the challenges seem, well, more challenging than ever. Pastors must learn to preach in ways that shepherd their flock through seasons of baffling confusion. To the point, we must preach in a manner that helps people hold their expectations of God loosely and not bail on him between Palm Sunday and Easter Sunday. There is a Good Friday crucifixion of expectations in between that is disorienting but necessary for resurrection.
Pastoring people through the confusion of unmet theological expectations toward the God who exceeds their expectations is not for the faint of heart. God is odd. He doesn't always do what we hope or expect. And that's good news for people who expect temporal liberation but get eternal salvation.
Lenny Luchetti is the lead pastor of Woodland Church (Battle Creek, MI) and the author of Preaching Essentials: A Practical Guide and Preaching with Empathy: Crafting Sermons in a Callous Culture .