The Seven Beatitudes of Revelation: Blessed Wedding Invitation
Article
The Seven Beatitudes of Revelation: Blessed Wedding Invitation
Weekly Devotional for Preachers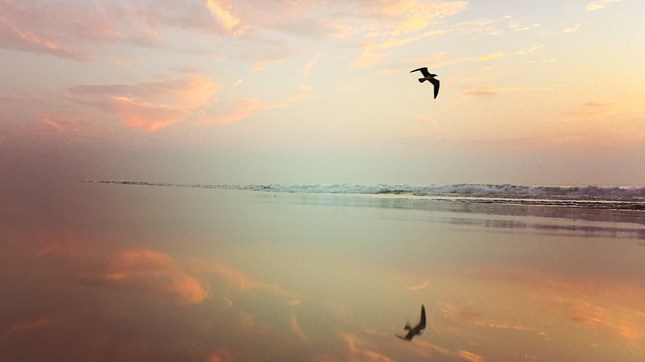 Image: Cyndi Monaghan / Getty
My Dear Shepherds,
In that long-ago dark night, the blood of a lamb stood guard on the doorposts and the meat of the lamb, along with unleavened bread, nourished the bodies and souls of Israelites for their imminent emancipation from slavery. It was, unbeknownst then, the first foretaste of a feast to come.
Centuries later Jesus gathered his disciples around him for their last Passover and first Eucharist.
And he said to them, "I have eagerly desired to eat this Passover with you before I suffer. For I tell you, I will not eat it again until it finds fulfillment in the kingdom of God." (Luke 22:15-16)
How many times have we repeated Jesus' words to our flock, "For whenever you eat this bread and drink this cup, you proclaim the Lord's death until he comes?" That table preaches his redeeming death and his coming feast. We eat and we wait restlessly to hear, "Come, for everything is now ready!"
Meanwhile, at our Master's command, countless servants (us included) have fanned out into highways and alleys inviting anyone who'd listen, no matter how unlikely or unfit, to come to his great feast. When we first heard the invite, who among us could've guessed what it would mean to have our raggedy, stained lives washed bridal white, or to have such love for Jesus kindled in our hearts that we could be wedded forever?
Nowhere else in all creation, in all of history, not among the hosts of heaven nor the countless people of earth, have any been so blessed, privileged, honored, and loved as these:
Then the angel said to me, "Write this: Blessed are those who are invited to the wedding supper of the Lamb!" And he added, "These are the true words of God." (Rev. 19:9)
This fourth beatitude of Revelation reaches back to touch the first Passover meal, the Last Supper, and all the times the people of God have received Communion. But it is also the bright-eyed hope of a bride counting down the days till our waiting is over.
What will that wedding supper be like? Isaiah takes us to the mountain of the Lord where it all began and where it will all begin again:
On this mountain the LORD Almighty will prepare
a feast of rich food for all peoples,
a banquet of aged wine—
the best of meats and the finest of wines. (Is. 25:6)
If now Communion nourishes our love, remembrance, and strength through Christ, imagine the fullness, unity, and joy of that banquet then when our hearts are already Christlike, our unity is perfected, and our gladness is attuned to the praises of heaven!
Anytime we receive a wedding invitation in the mail we know that between the lines of the elegant script is a romantic story of how they met and fell in love, of an ecstatic proposal and what seems interminable waiting. So it is here. There was never a more unlikely couple! The radiant bride embodies the story of a Gomer now made pure and righteous. The Groom's distinctive name, the Lamb, speaks volumes of the price love paid to win the heart of his beloved.
That is the greatest wonder of this wedding banquet—not the feast, but the love of the betrothed. As pastors, we have often watched the way a groom and bride gaze at one another as they stand there before us and how their eyes dance when we pronounce them husband and wife. Far greater and more passionate will be the loving look of Jesus for each and all of us on our blessed wedding day!
Be ye glad!
Lee Eclov recently retired after 40 years of local pastoral ministry and now focuses on ministry among pastors. He writes a weekly devotional for preachers on Preaching Today.