Empty Handed?
Article
Empty Handed?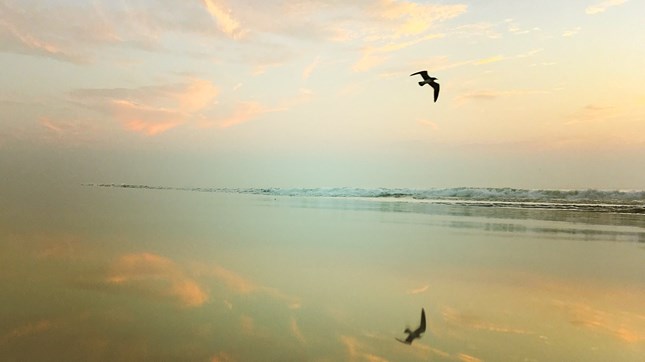 Image: Cyndi Monaghan / Getty
My Dear Shepherds,
Technology is a gift in this season of distance, to be sure, but there's not much warmth in its touch is there? I've watched pastors preaching to an empty sanctuary in the hopes that their congregation will populate the unseen space from their living rooms. It's a helpless feeling.
One pastor reminded me of a story I'd forgotten.
A plague overwhelmed the people of God. Nothing like it as far back as memory could carry. Locusts had invaded their land like a mighty army, with the teeth and appetites of lions, leaving only a wasteland in their wake. The prophet Joel gave them words for their grief, a lament scripted for them by the Lord God.
Mourn like a bride left alone at the altar,

a bride dressed in a forlorn sack instead of her wedding gown.

All our offerings—all our grain and wine—are cut off, swallowed by the locusts.

No one has anything to bring into the Lord's house.

No one even has reason to come. [My paraphrase]
Then Joel said this:
"The priests are in mourning,

Those who minister before the Lord." (Joel 1:9)
Pastor Donnie wrote me, "I have been thinking about the mourning priests in Joel 1 who are unable to perform some of the sacrifices in the temple because of the locust plague. It is weird to not meet physically with people for church services. This Sunday will be our first Sunday live-streaming. I am thankful for the technology, but it is also sad to not carry out my duties as a pastor the way I would like to - in person with the people God has called me to shepherd. I relate to the priests in Joel 1 more than I ever have before."
Those priests had reason to mourn. God's people had been incorrigible. The plague that stripped bare their land was God's megaphone, his last call. Having no grain or wine to offer the Lord was the least of their pastoral problems.
But for you, pastor, what is there for you to pour out before the Lord on behalf of your people? What can you bring to signal to God their desire for fellowship with him and their recognition that he alone provides? Or are you, in this sad season of distance, as empty-handed as those priests?
I've never forgotten a story Ben Patterson told years ago.
It came by way of two ruptured lumbar discs. The doctor prescribed six weeks of total rest. The horrible pain prevented me from lying in bed. Those weeks were spent on my back on the floor. My eyes didn't focus well, due to the pain-killers and muscle relaxants, so I could scarcely read.

I was of no use to the church, I thought. So I asked my wife to bring me the pictorial directory. I decided I'd pray for every member, every day. It took me nearly two hours. This was no great piety; mainly I was bored and frustrated. But toward the end of my convalescence, I said to the Lord, "You know, these times of prayer have become sweet. It's too bad I don't have time to do this when I'm at work."

"Stupid," the Lord replied pleasantly, "you have the same 24 hours each day when you're well. The trouble with you, Ben, is when you're well, you think you're in charge; when you're sick, you know you're not."
I'm sure you can see how timely that story is for pastors who feel empty-handed. Prayer isn't the only thing we can offer God on our people's behalf but I'm hard pressed to think of anything more lovely than that precious incense.
Through Joel God promised a day when he would "pour out my Spirit on all people." You are the pastor of those divinely anointed people. They are not in desperate need of your priestly work because a far better Priest always intercedes for them, even when it seems your hands are empty.
Near the end of his prophecy, Joel assured God's people,
"But the Lord will be a refuge for his people,

a stronghold for the people of Israel."
So he is for the flock he has entrusted to you. Lift your precious people into the refuge of the Almighty.
Be ye glad!
Pastor Lee
Preaching Today, from Men of Integrity (July/August 2004), Vol. 7, No. 4; adapted from Ben Patterson, Deepening Your Conversation with God (Bethany, 2001)
Lee Eclov recently retired after 40 years of local pastoral ministry and now focuses on ministry among pastors. He writes a weekly devotional for preachers on Preaching Today.