Our Lamp
Article
Our Lamp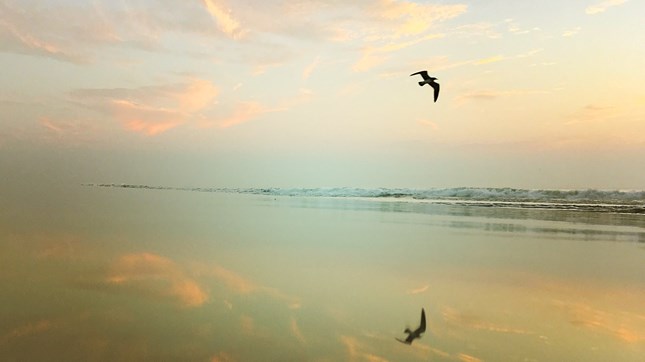 Image: Cyndi Monaghan / Getty
My Dear Shepherds,
As the story goes, Aladdin discovered a magic lamp which, when rubbed, brought forth a genie who could grant any of his wishes. Thus, he became rich and powerful, and he married up. But that's kids' stuff compared to the Lamp we hold.
[Jesus] said to them, "Do you bring in a lamp to put it under a bowl or a bed? Instead, don't you put it on its stand? For whatever is hidden is meant to be disclosed, and whatever is concealed is meant to be brought out into the open. If anyone has ears to hear, let them hear." (Mark 4:21-23)
We have been entrusted with the Jesus-lamp. All believers are, I know, but our daily calling, especially on Sundays, is to take our people by the hand and lead them into dark rooms where secrets and mysteries hide and then hold out our marvelous Lamp.
Perhaps we take them in Jesus' Emmaus Road footsteps into one of the rooms along the vast corridors of the Old Testament. We might cast the Christ-light over Genesis 3 or the Exodus, Psalm 2, or Isaiah's Servant Songs. We might hold the Lamp over Isaac bound on Abraham's altar or on Jacob's mysterious foe that dark night by the Jabbok. "There!" we say, "Now what do you see?"
Anyone can hear the stories of Jesus, but they can't really see them without that Lamp. His Light is necessary for us to worship with the magi or to hear the Sermon on the Mount so clearly that we hunger for righteousness. In that Light water turns to wine again, storm-tossed seas fall quiet, the ghastly cross is wreathed in white roses, and the blood of the Lamb stirs us to life, liberty, and song.
We hold that Lamp up to Jesus himself and see the invisible God. Think of that! Our Lamp can awaken our drowsy brothers and sisters to see Christ as the Lord over all things seen and unseen, and (even more eye-popping) as the head over the church, born first from the womb of the tomb and now the King of Immortals. The Lamp shows us drawn so deeply into Jesus that we have become his very body. Who could have ever imagined such a thing!
Yet there are even more rooms to illuminate, rooms our people least expect to see, for we take them into their own souls. Their closeted fears scurry away from the Flame. We cast the Word into the dark-draped room of their sorrows, regret, and shame and their hearts begin to heal. Hand in hand with the risen Christ, we walk through the locked doors of their sins and hold forth the warm peace of Christ. We enter, too, the storeroom of their unopened gifts, showing them, to their everlasting surprise, all their treasures glinting in the Jesus-light.
We hold our Light high and walk with them into the valley of the shadow of death so they can see the dark waters piled up on either side, the prison door flung open, their death sentence vacated, and the Lord Jesus himself waiting for them open-armed in the bright light of eternity.
Again and again, week after week, Sunday after Sunday, we hold out the Christ-lamp entrusted to us, bringing out into the open long-hidden mysteries. Jesus said it can be dangerous work because sinful people love their darkness. Nevertheless, think of the wonders we've seen and the treasures we have yet to reveal to our people. All of them illuminating the most glorious mystery of all: Christ in you (in you, dear people), the hope of glory!
Be ye glad!
Lee Eclov recently retired after 40 years of local pastoral ministry and now focuses on ministry among pastors. He writes a weekly devotional for preachers on Preaching Today.