Preaching the Exalted Savior in a Fallen World
Article
Preaching the Exalted Savior in a Fallen World
The preacher needs to contemplate the person, purpose, and precedent of Christ.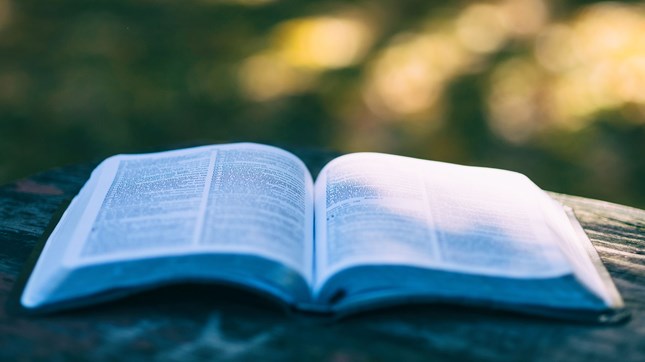 I often wonder how some career preachers view the Bible. Do they study the text to pull out sermon points, to prove a preconceived angle, or do they engage in the text respecting what God wants to proclaim within the narrative?
We sing of Christ's self-giving humility, as we viscerally want to imitate Christ's servanthood.
I have come to respect the Word of God as a text that is full of life. The Word of God is alive. It is a living text. It would be a mistake to deify the Word of God, but one would also be in error if they perceive the Word of God as being ordinary. There is something supernatural about the words that were supernaturally delivered to humanity. People have died for this Word, lived for this Word, sacrificed their life to translate this Word, people believed, and many still believe, that God's Word has the power to do what God has been desiring since the fall of humanity. God wants to be in relationship with creation and the jewel of all that he created is humanity. This is the ultimate purpose for the sending of the Son of God to be born, to live, to teach, to be tempted, to weep, to sweat blood, to be pierced, to be bruised, to die, and to rise again.
Purpose of God
With a greater understanding of the purpose of God's Word comes a greater appreciation of the purpose of God found in the Word. A macro look at Scripture reveals a cohesive intention by God to abide within humanity; so that humanity could abide with him for eternity. A micro look reveals not only truths that effect eternity, but truths about how one should live out their days on earth. The preacher's job is to engage in the Word and draw out revelation concerning both the macro and micro truths of the Scriptures. It is the burden of the preacher to make the living text come alive for their audience, and so then take their place in the proclamation of God's purposes to the jewel of his affection. Preachers must convey the dynamic nature of the text by conveying the dynamics of the text itself.
Christ as a template to spiritual unity
Let us consider a passage that reflects this in remarkable ways. Philippians 2 is known as the hymn that extols Christ humility. The passage invites the reader to contemplate, in order to live with, the humility demonstrated by the Son of God. Paul sets up the reader by framing a problem, then stating a clear succinct solution. It is set up by what may seem like a rhetorical question, but I believe it is a clever invitation to consider the example of Christ as a template to spiritual unity among the believers in Philippi and reaches believers across the spectrum of time and space to include us today.
Is there any encouragement from belonging to Christ? Any comfort from his love? Any fellowship together in the Spirit? Are your hearts tender and compassionate? Then make me truly happy by agreeing wholeheartedly with each other, loving one another, and working together with one mind and purpose.
This is one of the great scriptural formulas. Of course there should be encouragement belonging to Christ. If one can find a greater source of encouragement than Christ himself it would be found in the fact that one has been given the ability to be in Christ.
Of course his love brings comfort. It was his love that brought him to this world, provoked him to carry a splintering cross, and kept him hanging on it with every agonizing breath. It was a love that led to his death so that we have comfort in life. It is this encouragement, it is this love, it is the significance of being in Christ that should come together in every believer to give rise to a compassionate and tender hearted people of God.
As a preacher enters this text, a world of practical application comes forth. What preacher has not had an occasion to bring correction to people who might react to others or to a particular situation ignoring their position in Christ? A posture that should naturally give fruit from a supernatural seed. The believer, despite offense, should respond with love, tenderness, and compassion because of the encouragement of belonging to Christ.
The apostle then brings this correction front and center. Verse three declares: "Don't be selfish; don't try to impress others. Be humble, thinking of others as better than yourselves." Verse four admonishes every believer to question their motives as they compare them to the motives that drove Christ. "Don't look out only for your own interests, but take an interest in others, too."
Person, purpose, and precedent of Christ
Then the apostle does something that gives us a biblical blue print for Christian living. As believers we are called to contemplate the person, purpose, and precedent of Christ as a model for daily living as we consider him as the object of our worship. It is the worship of who Christ is that should effect how the believer lives and it is how Christ lived that should provoke the believers worship. Paul enters into a glorious hymn as the backdrop of focused worship, while at the same time solidifying why every believer should seek to live in humble holy harmony. We are admonished to have the attitude of Christ Jesus (verse five). Then we are invited to praise him for the humility he exemplified at every stage of the Messianic story.
Who, being in the very nature God,
did not consider equality with God something to be used to his advantage;
Rather, he made himself nothing
by taking the very nature of a servant,
being made in human likeness.
And being found in appearance as a man,
he humbled himself
by becoming obedient to death—
even death on a cross!
Therefore God exalted him to the highest place
and gave him the name that is above every name,
that at the name of Jesus every knee should bow,
in heaven and on earth and under the earth,
and every tongue acknowledge that Jesus Christ is Lord,
to the glory of God the Father.
Christ's humility, our humility
We worship the greatness of Christ while we consider the humble example of Christ. We extol the power of the Savior as we contemplate the position he took as a slave. We praise the glory of his majesty as we see the lowliness of his humanity. We do not worship an incredible idea; we worship Someone who gave up every position, every privilege, and all that gave him status to show us that true exaltation is a result of humility.
By this example we learn that Christ lived a template he invites us to follow. As we worship the greatness of who he is back-dropped by the lowliness he took on, we engage in a spiritual exercise that forces us to consider our humility, if we ever want to get on a path to true success.
His humility does not just lead him to take on human form or engage in humble acts, his humility leads him to the point of no return as we consider he did not just come to live like us, but he came to die like us. In fact, he came to die for us. To die so we do not have to die. This point should not only make our heart leap it should literally make us leap with joy as we worship with our eyes wide open, with our mind completely engaged in contemplation, and with our heart connected to our Savior.
We sing of Christ's self-giving humility, as we viscerally want to imitate Christ's servanthood.
So preacher, a sermon should have a similar impact as a great movie or play: it should send us out seeing, tasting, inhabiting the world differently than when we came in. Our worship experience should proclaim these truths and our engagement in the preaching process should proclaim these truths. God invites us to engage in relationship with our worship, but he also calls us to engage in relationship by discovering his purpose in the text. As we draw closer to him we become more like him. We win because we become humble.
Samuel Rodriguez is the president of The National Hispanic Christian Leadership Conference and the senior pastor of New Season Church in Sacramento, CA.