Grace-full Prophetic Preaching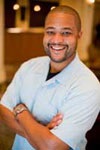 This slideshow is only available for subscribers.
Please log in or subscribe to view the slideshow.
Grace-full Prophetic Preaching
The gospel is the most prophetic message you can proclaim.

Editor's note: In 2003, Bryan Loritts moved to Memphis with a clear purpose in mind. He wanted to plant a multi-cultural, multi-generation church community, and by God's grace he and his team have succeeded. As Bryan says in this interview, that in itself involves prophetic preaching. But Bryan calls attention to what may not be associated in the minds of many with prophetic preaching, and that is the gospel. What does the gospel have to do with bringing a challenging word?
PreachingToday.com: Do you think prophetic preaching is a good term?
Bryan Loritts: It's a great term, but you have to explain it, because the term prophetic has several connotations. Do you mean prophetic in the sense of foretelling, or in the sense of forth telling? Prophetic preaching is forth telling. Whether you see yourself as a prophetic preacher or not, anyone who stands and opens up the Bible and says, "Here's what God says," is really taking on the mantel of a prophet. In the Old Testament when the prophets ...