A Gospel-Shaped Church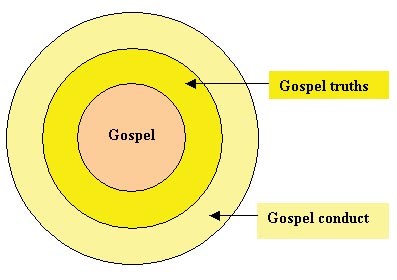 This slideshow is only available for subscribers.
Please log in or subscribe to view the slideshow.
A Gospel-Shaped Church
How should the good news function in the life of the local church?

A local church is healthy to the degree that:
Its pastor-teachers are able—accurately, effectively, and broadly—to bring the gospel to bear into the real lives of the people.


Its people have a deep, personal understanding of and appreciation for the gospel so as to be able to live in the good of the gospel daily.


I call this the functional centrality of the gospel.
Critical to achieving this aim is making clear the connections between the gospel and its doctrinal implications, and between the gospel and its behavioral implications. We could call these connections gospel truths and gospel conduct respectively.
Think of three concentric circles.
In the center is the gospel itself, perhaps best represented by the words of 1 Corinthians 15:3—"Christ died for our sins." This simple phrase speaks of the reality of our sin, the necessity of divine punishment, and the wonderful provision of salvation from divine wrath by God in Christ. Paul speaks of this "good news" as the matter of ...