Guest Preaching
Article
Guest Preaching
7 things to consider before your next invitation.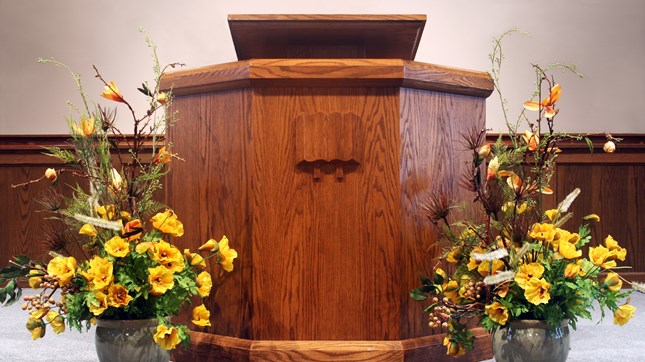 Image: carolo7 / Getty
Determining what to preach as a guest preacher is often a challenge. For one, preaching at a church where you have no context can be unsettling, even unclear for the guest preacher. In addition, you have interests (passages of study or sermons you've preached before that are favorites) that might or might not intersect with what the congregation to which you're preaching needs.
What should a preacher do in preparing to preach as a guest preacher? There are a few matters that would be helpful for preachers to consider before getting the next invitation: pray, get information, remember you're a guest, greet your hosts, don't be surprised by surprises, don't be afraid to ask about remuneration, and pray—again.
Pray About the Opportunity
Once you receive an invitation to preach as a guest preacher, pray for the congregation to whom you'll be preaching and ask the Lord for guidance in selecting an appropriate text on which to preach.
Whether a seasoned pastor, newly minted seminarian who has the opportunity to preach, or an experienced itinerant preacher, we all have the same need—prayer. Prayer can be a neglected element in the preaching task.

When I'm asked to preach at a church as a guest preacher, I begin by praying for the church to which I'll be preaching. I'll pray that the Lord would prepare me and prepare them for the time we'll have together. Prayers for the preparation of the sermon, for the service, for the sermon, for the people make their way into my intercessions months before and especially the week during which I'll be preaching.
You can't get too much prayer. In fact, ask friends or family to pray for you—which I do—I ask them to pray for me and the congregation that the Lord will be honored and the he'd do the work that he intends to do.
So, guest preachers, pray.
Get Information from the Pastor
The pastor will be able to help you with getting a perspective on the needs (spiritual, situational, etc.) of the congregation. It might be the case that the pastor may want you to preach on something that he or she has not been able to address and a guest preacher could do the trick. Additionally, the pastor may be in a series and wants to fit into the series the sermon you'll be preaching. Yet again, you might be told to preach on anything you choose. This is fine, but you'll still want to attempt to discern if there's a need that you could address through the sermon you'll be preaching.
If the church is without a pastor, you'll want to go through the steps above to determine on what you'll be preaching. Ask the contact person or church leader questions concerning expectations, series, and vision to determine the best sermon to preach.
Whether I speak to the pastor or other church leader it's my practice to have a phone conversation or an email exchange about the particulars of the church—what they're going through, a situational and theological lay of the land. I make note of these contours as I prepare to select a text and shape the sermon. Such conversations provide context, allowing me as the guest preacher to serve them, for, that's what I've been called to do.
Remember You're a Guest
When you go to the church to preach, don't forget that you're an invited guest. You're not the pastor of the church, so you'll want to respect the traditions of this particular congregation. You've not been invited to change the order of worship. Nor were you asked to preach longer than the congregation is used to listening. The service isn't about a guest preacher—it's about leading men, women, boys, and girls into worshiping the God of all gods, and playing a small part in leading them to maturity in Christ.
Guests are polite and winsome. They try to please their hosts, not unsettle them. Although the pastor or church leader who invited you to preach may know you, the congregation doesn't. I try to keep this in mind when I guest preach.
Even the way you dress sends a message to the listeners. My wife and I now live in Texas. Not long after arriving here I was invited to preach at a rural church surrounded by cotton fields. A few weeks before I was scheduled to preach I was given a pair of cowboy boots for my birthday. Once I understood the context in which I was to preach, I decided to wear my new boots. Dressed in my suit and donning my boots, this boy from Pennsylvania found acceptance among these loving rural believers. I was their guest and wanted to honor my hosts.
Greet Your Hosts
One way to build rapport with your listeners as a guest preacher is to mingle and greet many in the congregation before the start of the service. They may not know you but you getting to know them—introducing yourself and getting their names—can encourage them to hear you before you get up to preach.
Haddon Robinson shared with me this thoughtful aspect of guest preaching. And I saw him in action many times applying this skill with the congregation to whom he would soon be speaking. I asked him about it and he told me that he learned to be sensitive to one's listeners in this way from the great pastor and preacher, Warren Wiersbe. Let me encourage you to greet your hosts when you guest preach.
Don't be Surprised by Surprises
When serving as a guest preacher, the order of service or the way in which worship is conducted may be unfamiliar or even uncomfortable for you. Remember, you're not there to make corrections or comments about the service. You're there to preach, although you may be surprised by being asked to conduct the entire worship service from the Call to Worship to the Benediction or other ways this congregation conducts worship. Graciously follow the flow of the service, leading the congregation in its tradition.
More often than I'd like to admit when I'm asked to be a guest preacher, I arrive to preach only to discover as I walk in the door that I'm placed in charge of the entire service. When this happens, take on the responsibility with grace. This happens regularly when I'm invited to preach at a rural church or at a church that's between pastors. Preaching might only be a part of the way that God will use you. Lead them with love and grace—and preach with power.
Don't be Afraid to Ask About Remuneration
As a guest preacher at a given church, you may have to drive an hour or more to get there. The church may give you an honorarium (a subject for another article) but not consider reimbursement for mileage. Churches, even smaller ones, will want to consider the entirety of costs when inviting a guest preacher. Providing mileage reimbursement is part of the package.
The Apostle Paul reflects this concern in his remark to the Corinthian Christians, "Who serves as a soldier at his own expense?" (1 Cor. 9:7). His answer—no one. Guest preachers, too, should be compensated appropriately for their time and talents.
When I receive an invitation, I routinely ask about the honorarium and mileage. And if I'm coming from a long distance, I might have to spend Saturday night in the town in which the church is located, so asking about hotel accommodation may also be part of the conversation. We might shy away from talking about money, but, like the listeners to whom we'll be preaching, we, too, tithe our salary, pay taxes on the honorarium, fill our cars with gas, etc. Money matters matter.
Pray—Again
Pray not only when you're at the church the day you preach, but also pray for the church following your time there. In the week after your preaching assignment, pray for the congregation. Be aware of the promptings of the Lord to pray for these believers well after you've been there to preach, maybe even years later, that the Lord would continue to use his word to grow disciples. There was reason in God's providence that you fed the listeners from the Word on that day. We never know how the Lord will use the experience in their lives—and in yours.
Conclusion
Guest preaching may not be something that you regularly encounter, but the practices of praying, getting information, remembering that you're a guest, greeting your hosts, not being surprised by surprises, not being afraid to ask about remuneration, and praying again for your listeners even after you preached at the church will serve you well as you serve in a church that needs a guest preacher.
Scott M. Gibson is the Professor of Preaching and holder of the David E. Garland Chair of Preaching at Baylor University/Truett Seminary in Waco, Texas. He also served as the Haddon W. Robinson Professor of Preaching and Ministry at Gordon-Conwell Theological Seminary in South Hamilton, Massachusetts, where he was on faculty for twenty-seven years.