Preaching to a Dispersed Congregation
Article
Preaching to a Dispersed Congregation
Practicing presence even when social distancing.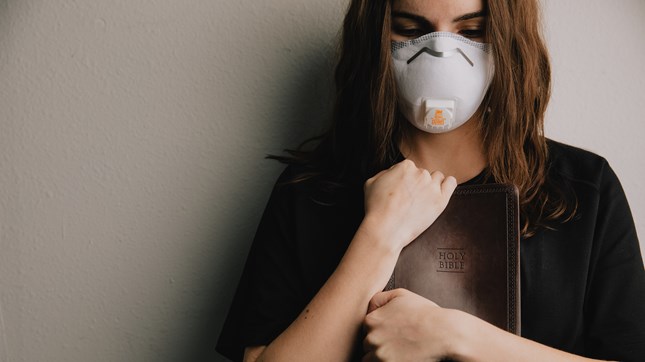 Image: Brad Coleman / Lightstock
A Personal Note from Scott:
For most churches big and small, the unprecedented COVID-19 crisis has put them into ministry places they never would have dreamed. Long-practiced ministries are shut down, the usual means of connecting in homes or other venues are now curtailed, congregants aren't able nor are they allowed in many places to gather for prayer or preaching. It seems like our congregations are part of a great diaspora, a scattering of the ones we love into isolated spaces where contact with the outside world is limited and at times virtual.
What are preachers and listeners to do? How can we be the church in a COVID-19 predicament? I want us to consider some matters of ministry in such crises and then explore what preachers can do and what congregations can do as the preaching of God's Word takes place.
Matters of Ministry: The Way the Game is Played Has Changed
Pastors and people have been thrust into a new environment of what it means to be the church. The church, those called by Christ, is local, national, international, universal, and eternal, yet congregations may feel displaced. Paul's instruction to the Ephesian elders transcends persecution, satanic attack, and even pandemics, "Be shepherds of the church of God, which he bought with his own blood" (Acts 20:28). No matter if the members of our congregation are sheltering in place, they have a shelter, the church, which will never fall (Matt. 16:18), and they have pastors who care for them in spite of physical separation.
We all realize that in light of what's taking place with this pandemic it's not "ministry as usual." One pastor with whom I spoke told me, "We're all trying to learn a new job here." She's right. The way the game is played has changed. But the game remains the same: living the gospel-the truth of the life, death, burial, and resurrection of Christ from the dead which gives justification for men, women, and boys and girls to have life eternal in Christ by turning away from sin and giving oneself to Christ. That's what it means to be a disciple, a follower of Christ.
But what is a pastor to do in this dispersed time? How is the pastor to preach to a congregation vacant from the sanctuary and scattered in homes? What's more, what are listeners, the spread out congregants, to do as they hunger for nourishment from God's word from their pastor?
For Preachers: Preaching Might be Done Differently
Rethink Practice
When the local, state, or national order was given not to host gatherings of more than 10 people, churches scrambled to consider ways of replicating the practice of what takes place at their typical worship gathering through various media platforms like FaceBookLive, Zoom, or some other means.
Perhaps we're conditioned to respond by imitating regular worship services virtually due to our culture of communication. We have all been raised on a steady diet of television and now the internet. We watch people cook eggs or demonstrate how to change an electric wall switch, we laugh at comedy programs, we cry at dramas. What we end up doing is attempting to reproduce our church's in-person worship and preaching experience in an impersonal environment.
Since the COVID-19 outbreak, some churches have developed slick videos and posted their worship service live—to an empty sanctuary. Certainly, larger, more financially healthy churches have the capacity to produce media that replicates the most professional of productions. But smaller, less endowed congregations barely have the capacity to project lyrics on the screen in the front of the sanctuary let alone develop eye-catching videos. Haddon Robinson wrote about the inferior feelings a preacher faces when he or she is compared to a "communication king." We can't keep up—nor should we expect to do so.
This struggle with trying to find the best practice to help our congregation raises the question as to what it means to preach in a media driven culture. We have been conditioned to watch, to expect to be entertained when we turn on the television or go to YouTube. We watch. We view. We observe from afar. When confronted with communicating to a dispersed congregation we may respond by developing approaches that reflect the wider culture. We do it almost automatically.
A worship service that has the camera showing what takes place from song to sermon may be like any other program or video that one watches on the television or computer for personal entertainment. The congregation might watch, but they may not engage. They are more like spiritual voyeurs, expecting even subconsciously to be entertained but are not connected. Replicating what everyone else is doing may not meet the needs of our congregation.
Rethink Presence
Perhaps coming to terms with the distance and at times impersonal nature of media will help us to reconsider how we might at least harness it for ourselves, for our congregation, for the gospel. Let me suggest that presence is key.
Aristotle noted the importance of "ethos," the notion of presence, of character. In light of the COVID-19 shelter-in-place environment, one pastor stated, "People are afraid and are seeking a connection with God."
The question we want to ask is how can we cultivate the connection of the church community through a medium like television or a live web channel? I believe it has everything to do with presence. Our congregation wants to know that we care about them, that we are connected to them—personally—that we demonstrate presence.
The great World War II President, Franklin D. Roosevelt knew how to cultivate care and connection with the American people during a time of crisis. He harnessed the medium of radio, the dominant form of media in the 1930s and 1940s, and created a closeness with America through his occasional "Fireside Chats." He simply talked with the American people. Roosevelt understood presence. People felt as if the President of the United States was sitting in their living room or standing in their kitchen.
We want to ask ourselves how are we communicating presence? How are we showing that we care for our listeners even in the way in which we communicate?
There are multiple ways to think about presence. There can be more to it than simply having the preacher preach at the pulpit to an empty sanctuary. Presence may look more like a preacher in a wingback chair speaking to his or her congregation with Bible in hand.
Rethink Preaching
Harnessing media means that we leverage it for the most effective way to communicate presence, to help the congregation, the listeners, those who tune in, know that we care in the midst of this outrageous outbreak. There are many in your congregation who are frightened. They are holed-up in their homes awaiting hope, feeling at times disconnected from other believers and from the church, and even from God.
Perhaps our preaching during this time might be more like a conversation with our listeners as they lean in and hear from God's Word. Instead of standing in the pulpit preaching on a Sunday morning, perhaps sitting in your favorite chair speaking in a conversational manner with Bible in hand would communicate closeness, care—presence. Now, more than ever, congregations are seeking a clear word from God, spoken in a way that connects with them where they are—and maybe communicated in a way they least expect, but may hear the most.
For Congregants: You Might Want to Change the Way You Listen
When coming to tune in to a worship service on the television or through the computer, perhaps the biggest change you can make is to change the way you listen. Changing the way you listen involves the following four considerations.
Pray
Come to the time of preaching with an attitude of prayer. Pray silently or out loud if there are others gathering with you. Pray that the Lord will speak through the Word that is communicated. Pray that you'll be changed. Pray.
Focus
This means that you give attention to what is taking place through the screen and the people who communicate through it. Turn off your cell phone. Take distractions out of the room. Don't just watch, as if you want to be entertained, but give your attention to what's being said and how it's being said. Listen carefully, intentionally engaging with what's being communicated.
Interact
For some, note taking, prayer-request-texting, or even drawing a picture of what practicing what is preached looks like will help you to feel as if you're present with the preacher.
View What's Happening as a Conversation
Consider the words from the preacher as a conversation with you. This will help you to focus and interact with what the preacher is saying. Such engagement reinforces a sense of presence for the listener—and the presence the preacher intends to communicate.
Conclusion
Being a preacher to a dispersed congregation is a challenge we did not expect. It was thrust upon us—but we're called to respond. Perhaps our first response may not be the most effective. Who knows? We're all learning through this time. If we practice presence to our listeners, they may feel more connected to each other and to the Lord of the church as we communicate God's Word via the social mediums of our day.
Scott M. Gibson is the Professor of Preaching and holder of the David E. Garland Chair of Preaching at Baylor University/Truett Seminary in Waco, Texas. He also served as the Haddon W. Robinson Professor of Preaching and Ministry at Gordon-Conwell Theological Seminary in South Hamilton, Massachusetts, where he was on faculty for twenty-seven years.