Dear Dr. King, Thank You for Your Ministry
Article
Dear Dr. King, Thank You for Your Ministry
Four preachers share what they've learned from Dr. Martin Luther King Jr.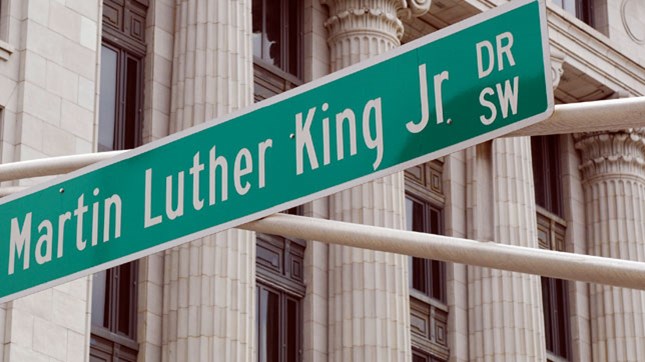 "Dear Dr. King." Thus begins four letters of appreciation for the late Rev. Dr. Martin Luther King Jr. from four contemporary pastors—Crawford Loritts, Matt Chandler, Soong Chan-Rah, and John Piper. On April 16, 1963, as Dr. King waited his release from an unjust imprisonment in a Birmingham jail cell, Dr. King used the margins of a smuggled newspaper to write one of the greatest essays of the 20th century. Today we call the essay the Letter from a Birmingham Jail. In this moving letter, Dr. King argued his case for why we can't wait for an end to racial injustice. But the letter also contains a passionate plea that the church also faces one of two stark options: pursue and fulfill your Christ-given mission, or become an irrelevant social club. These letters from four contemporary pastors originally appeared in Letters to a Birmingham Jail: A Response to the Words and Dreams of Dr. Martin Luther King Jr., edited by Pastor Bryan Loritts and published by Moody Press.
Matt Woodley, Editor, PreachingToday.com
Pastor Crawford Loritts
Dear Dr. King,
It's been over fifty years since you declared that we can wait no longer for biblical justice! I am writing because I have to say "thank you." If God had not used you and the other courageous men and women of the civil rights movement to pave the way, the doors that have been opened to me and the opportunities afforded me would have never happened.
Diversity that is not simply an assembly of multi-raced but assimilated peoples can only be done through God's grace and the power of the Holy Spirit. This is what my heart is hungry for.
As a teenager I fell in love with the Word of God. The more I read it, the more was captured by his description of the church—what it should be and represent in the world. Ephesians 2 was like a powerful magnet pulling me back time and again to the compelling description and vision of God's church, a reconciled community. As that vision wrapped itself around my imagination and heart, your emphasis on love and integration fueled that vision within me.
By the time I was sixteen, there were two things I knew I wanted to do the rest of my life. Preach the Word of God and serve in a context in which the unity of the body of Christ was being demonstrated. The second thing has proven to be the most costly and painful and yet the most rewarding and joyful.
So many times on the journey, I almost caved in and walked away; but God wouldn't let me. He gave me encouragement through like-minded brothers, who'd also been influenced by you.
Today I serve as the first African American pastor of a predominantly white church growing toward ethnic diversity and that vision God emblazoned on my heart years ago.
To men like you, I owe a profound debt of gratitude for staying the course.
Thank you. You are helping me finish mine.
Pastor Matt Chandler
Dear Dr King,
I was in my early twenties when first read the letter you wrote while in jail in Birmingham. At that time my heart had already been marked by your passion and vision for diversity. I'd already been stirred to pursue a lifelong journey in the participation of "the dream" you spoke about and to spend my days, my life, and the influence God had given me, to see that dream come true.
When I read your letter I wept, my resolve growing stronger as I came to the end. Whatever God had for me in the future, I would learn from those of different ethnicities and have as many deep and diverse friendships as possible, while guarding against the ignorance birthed in homogeny.
As a white man born to white parents, living under the privilege of the dominant culture, staying this path hasn't been easy. Whenever I have hit bumps in the road as the pastor of a large church, I find myself drawn back to your passion, vision, and sacrifice for the cause of multiethnic harmony and the type of diversity that brings glory to God and sanctifies men.
Diversity that is not simply an assembly of multi-raced but assimilated peoples can only be done through God's grace and the power of the Holy Spirit. This is what my heart is hungry for.
I am grateful for the course you charted, in your service to Christ. I am praying the Spirit of God would guide our steps today as we seek to better display his love for all men, and I seek to continue learning from my brothers of other ethnicities.
For your passion and vision for diversity and humility, thank you, Dr. King.
Dr. Soong-Chan Rah
Dear Dr. King,
As a child growing up in a Korean American church, I was blessed to encounter Christians from the majority culture, many of whom contributed to my spiritual formation. As a college and seminary student, and as a young church planter, I was blessed to be mentored by African American, Latino, and Native American Christians who spoke truth into my life.
Micah 4 raises the promise of a racially reconciled multiethnic community. As I reflect on your letter through the lens of Micah 4, I am reminded that, in Christ, I no longer have to live under an oppressive system of segregation separating me from my brothers and sisters. Instead, I have the privilege of engaging across the dividing walls of hostility and finding a spiritual vibrancy in a restored Christian community.
This vision of the unified church, promised in Micah 4 and birthed in Acts 2, will culminate in Revelation 7:9 (NIV) with "a great multitude that no one could count, from every nation, tribe, people, and language standing before the throne and before the Lamb." The challenge before our church today, as in your time, is how to fully live into the promise of Micah 4.
While we continue to experience the blessings arid challenges of diversity in our nation, one significant characteristic stubbornly extends into our time: 11 A.M.. Sunday morning remains the most segregated hour in the nation. As we consider building more multiethnic churches, the work of confronting racial injustices by pursuing racial reconciliation and biblical justice becomes all the more important.
It's a hard and sacrificial work, as you well know. May the church seize this moment to respond to your challenge and fulfill the biblical call to a true multiethnic community of worship.
Pastor John Piper
Dear Dr. King,
You were right. You prophesied, "If today's church does not recapture the sacrificial spirit of the early church, it will … be dismissed as an irrelevant social club with no meaning for the 20th century."
But we have lost more than a sacrificial spirit. One of your prophetic heirs, Carl Ellis, has made clear that many black and white churches have become "irrelevant social clubs" because they have lost the God-centered, Christ-exalting, Bible-saturated gospel. God has been sold for good agendas.
There are times I wished you had made the biblical gospel clearer. But I am sure you would agree that the power you wielded was rooted in God. Today, as I look at the gospel-weak white and black churches, I would say that both need a transcendent reference point in the sovereignty, supremacy, and centrality of God, expressed supremely in the gospel of Jesus Christ.
God-centered, Christ-exalting, Bible-saturated churches where the gospel is cherished—these are the birthplace of the kind of racial harmony that gives long-term glory to God and long-term gospel good to the world.
Again you were right about the folly of passive waiting. Biblical waiting is not passive. It does not compromise. Nothing that needs changing changes without effort.
Some may have quoted, "Wait for the Lord; be strong, and let your heart take courage; wait for the Lord" (Psalm 27:14). But this call to wait for the Lord never meant stop doing what he commanded us to do in the pursuit of holy goals. Waiting for the Lord means our action is essential, but his is decisive. The farmer must wait for the harvest. But no one works harder than the farmer.
Thank you for your sacrifices, May our Lord Jesus hasten the day when the terms "white church" and "black church" will be unintelligible.
These letters originally appeared in Letters from a Birmingham Jail: A Response to the Words and Dreams of Dr. Martin Luther King Jr., edited by Pastor Bryan Loritts and published by Moody Press. Used with permission from Moody Press.
Dr. Martin Luther King Jr. was the pastor of Ebenezer Baptist Church in Atlanta, Georgia, a prolific author and speaker, and a key leader in the American Civil Rights Movement.