America's Gnostic Impulse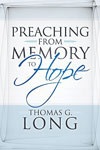 This slideshow is only available for subscribers.
Please log in or subscribe to view the slideshow.
America's Gnostic Impulse
A book review of Tom Long's 'Preaching from Memory to Hope'

Preaching from Memory to Hope
By Thomas G. Long
Louisville: Westminster/John Knox, 2009
About every fifty years, Thomas Long observes, American preaching suffers a nervous breakdown. When this happens, preachers abandon the structures and strategies that used to work and "begin to scramble for the next, new thing." The current next new thing, according to Long, is actually something very old—a revival of Christian Gnosticism. Long does not mean that American Christians have returned to the theological assertions that occupied the church during its first three centuries, so much as to what he describes as the "gnostic impulse." He characterizes this as "a counterforce, a reaction that erupts here and there in church history in response to what is seen as the barrenness and oppressiveness of what the church is teaching."
American Gnosticism, as Long defines it, is marked by several key characteristics. Foremost among them are a mistrust of Christian orthodoxy, dissatisfaction with ...