Deep Secrets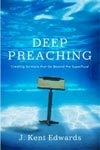 This slideshow is only available for subscribers.
Please log in or subscribe to view the slideshow.
Deep Secrets
Steve Mathewson reviews "Deep Preaching," authored by Kent Edwards.

The problem with most sermons is not that they are too deep, but that they are not deep enough. Kent Edwards believes this so strongly that he has "set out to rethink preaching." He does this in his recent book Deep Preaching: Creating Sermons That Go Beyond the Superficial (B&H Academic, 2009). As I read his book, which won a PreachingToday.com book award, I realized that his "rethinking" does not lead him to scrap the homiletical models taught by the current deans of expository preaching, such as Haddon Robinson and Bryan Chapell. Rather, Edwards has a knack for identifying pieces of these models that we take for granted or ignore.
One of these pieces has to do with the preacher's heart. "Start with your heart," Edwards counsels. Then he asks, "Do you want God or God's blessings? Do you want personal advancement or personal intimacy with God?" (p. 50) Those questions stop me in my tracks! Edward explains why preachers must wrestle deeply with questions like these: "The people God uses ...