Preaching in a Visual Age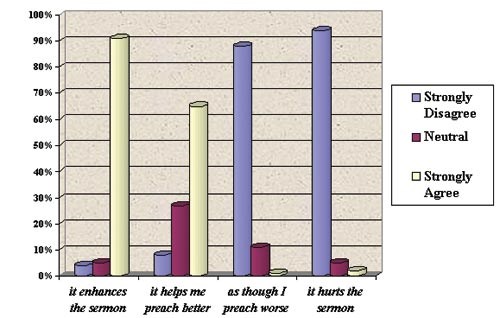 This slideshow is only available for subscribers.
Please log in or subscribe to view the slideshow.
Preaching in a Visual Age
How much do churches budget for producing visual media? What media are pastors using? How many churches subscribe to image libraries? Our survey shows the use of visual aids in preaching is heavy, helpful, and here to stay.
Ten years ago, Business Week conducted a poll that asked Americans to list the inventions they simply could not live without. Not surprisingly, 63 percent of respondents put the automobile at the top of their list. Today, were a similar poll given to preachers—what inventions could you simply not preach without—a large (and growing) percentage of them would place visual aids at the very top.
A 2005 Preaching Today survey of 442 pastors found that seven in ten pastors not only use visual aids in their preaching on a regular basis, but love using them as well. Far from being an impediment or extravagance, visual tools are becoming a regular asset to the preaching experience.
Do we really use it?
Of the 70 percent of pastors who use visual aids on a regular basis, only 5 percent said they used them because they felt they had to. Furthermore, of the 30 percent who do not currently use visual aids in their preaching, 36 percent said their church had plans to purchase the necessary equipment. ...