How Much Content Is Enough?
Article
How Much Content Is Enough?
Give as much biblical information as people need to understand the passage, and no more.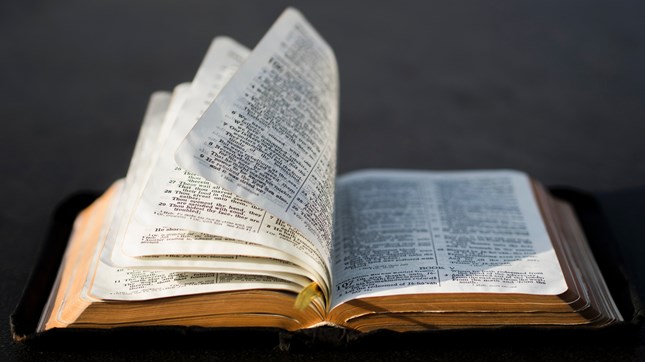 Image: Aaron Burden / Unsplash
How can we strike the right balance in our preaching between biblical content and life application?
The basic principle is to give as much biblical information as people need to understand the passage, and no more. Then move on to your application.
The distinction between exegesis and exposition is helpful here. Exegesis is the process of getting meaning from the text, often through noting the verb tense or where the word emphasis falls in the original languages. That's what you do in your study as you prepare. But it's seldom appropriate in a sermon on Sunday morning. In fact, an overuse of Greek or Hebrew can make us snobs. Using the jargon of my profession can come across as a putdown, a way of saying, " I know something you don't know. " There's an arrogance about that that can create distance between me and the audience.
I served for ten years as a general director of the Christian Medical and Dental Society. Sometimes physicians would use technical medical terms when they talked with me, and I wouldn't know what they were talking about. Once I said to one of my friends, " I hope you don't talk to your patients as you do to me, because I don't know the jargon. I'm an educated person. I just don't happen to be as educated in medicine as you are. "
He replied, " Preachers do that in the pulpit all the time. "
I did a lot of that when I first got out of seminary. I used my knowledge of Greek and Hebrew in the study and in the pulpit. One day a woman wounded me with a compliment: " I just love to hear you preach. In fact, when I see the insights you get from the original languages, I realize my English Bible is hardly worth reading. "
I went home asking myself, What have I done? I'm trying to get people into their Bibles, but I've taken this lady out of hers.
Spurgeon was right: people in the marketplace cannot learn the language of the academy, so the people in the academy must learn the language of the marketplace. It's the pastor's job to translate.
While raw exegesis doesn't belong in a Sunday morning sermon, what does belong there is exposition. Exposition is drawing from your exegesis to give the people what they need to understand the passage. They don't need all you've done in exegesis, but they do need to see the framework, the flow of the passage. They should be able to come back to the passage a few weeks after you've preached on it, read it, and say, " Oh, I understand what it says. "
Does this mean there is no place in the church for exegesis? Of course not. As you study, you may dig out all kinds of material that would help certain people who enjoy detailed Bible study. While including these tidbits in a sermon resembles distracting footnotes, this kind of technical teaching is appropriate for a classroom.
Some pastors I know preach on a passage on Sunday and then follow up with a detailed exegetical study with a smaller group of interested people on Wednesday night.
Donald Gray Barnhouse had an interesting way of handling this. He commented as he did the Scripture reading. He would pause as he read to talk briefly about the tense of a verb or what some expression meant. He'd take ten minutes just reading the Scripture. His Bible reading was based on his exegesis.
Even then, Barnhouse did not show off. He didn't give his congregation lessons in ancient languages. He simply took time to amplify the passage based on his study so his people could appreciate the flow and nuances of the thought of the biblical writer. Some folks attending Tenth Presbyterian Church for the first time heard the Bible reading and thought they had heard the sermon!
When Barnhouse got to his sermon, he was able to concentrate on the message of that passage, its implications, its application, which is what makes a sermon a sermon.
Haddon Robinson was a preacher and teacher of preachers all over the world. His last teaching position was as the Harold John Ockenga Distinguished Professor of Preaching at Gordon-Conwell Theological Seminary.