The Preacher As Sermon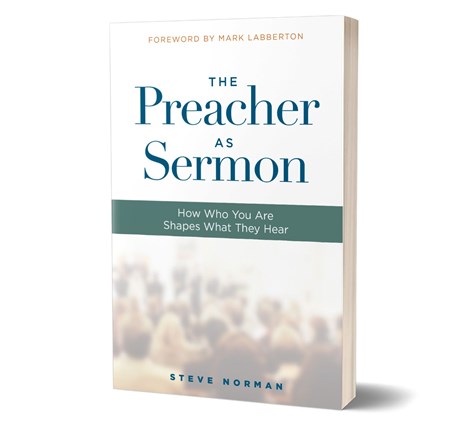 Cultivating a Life that Preaches
As preachers, we spend hours in thoughtful study, observation, and reflection, in hopes of causing significant life change in our hearers. So it's easy to forget that we're meant to first be impacted by the message ourselves – that our preaching would be the natural overflow of our own spiritual transformation.
In The Preacher As Sermon, pastor and preacher Steve Norman helps us remember that we're disciples first, exploring 10 specific roles we take on throughout the preaching process. By embracing each role more fully, we can move beyond being sermon-writing machines or human megaphones to becoming an active participant in all that God is doing through our hearing and speaking of his Word.
About the Author
Steve Norman is a preacher and writer residing in western Michigan with his wife, Kelly, their four children, and their dog, Chewie. Over twenty-five years of ministry, he's served as a church planter, teaching pastor, and lead pastor within local churches in the Detroit and Grand Rapids areas. He also holds a Doctorate from Fuller Seminary in Missiology.
What Other Say
"The act of preaching cannot be separated from the person of the preacher. Norman presents a balanced perspective on what it means for preachers to embody their sermons for their congregations."
- Matthew D. Kim, George F. Bennett Chair of Practical Theology, Director of the Haddon W. Robinson Center for Preaching, Gordon-Conwell Theological Seminary
"If you want to explore how a preacher is spiritually formed to preach without shame, self-promotion, or self-protection, this is the book for you. It's one of those books a preacher needs to read regularly."
- Sarah Barton, Pepperdine University Chaplain
"Norman offers us a manual for all who teach or preach, showing us how the messenger is the message and what we say must transform our hearts and minds before it can transform others."
- Dave Ferguson, Lead Pastor, Community Christian Church in Naperville, IL
"With pastoral wisdom, Steve Norman describes ten different roles that the preacher plays, inviting the kind of spiritual development and self-awareness that will allow readers to discern how to let sermons grow from their own discipleship."
- Mandy Smith, Pastor at University Christian Church in Cincinnati, Ohio
"In ten chapters Steve develops the truth of one controlling idea: "There's a direct line between the state of our soul and the tenor of truth proclaimed." That is, how we are formed on the inside will indicate how we speak on the outside."
- Gary M. Burge, Professor of New Testament and Dean of the Faculty at Calvin Theological Seminary (Grand Rapids, Michigan)
"Those who don't seek God's help to address their personality hiccups, maladaptive tendencies, family traumas, and fears will inevitably renounce core aspects of the faithful, fruitful freedom in Christ that God intends, including their preaching."
- James Ellis III, Author of Tell the Truth, Shame the Devil: Stories about the Challenges of Young Pastors
"I like this book. It has something for new preachers and old. In fact, it has many things for all. Without rejecting homiletical technique, it starts with something prior. It starts at the very beginning—a very good place to start—with the preacher's calling, role(s), and soul."
- Jeffrey Arthurs, Professor of Preaching and Communication & Chair, Division of Practical Theology at Gordon-Conwell Theological Seminary
"Norman is right, "we are called to be wordsmiths and theologians. And we are called to be stewards and gardeners."" In his book he walks alongside us in that garden path. And the overflow is transformative for the spiritually lost and the seasoned saints."
- Wayne Schmidt, General Superintendent, The Wesleyan Church
"With the care and precision of a surgeon Steve Norman examines both the craft and art of preaching. He dares us to improve our preaching, to become less mechanical and more artistic, and to think about what we are doing."
- Richard Allen Farmer, Pastor at Crossroads Presbyterian Church in Stone Mountain, GA