Dialogical Preaching (part 2)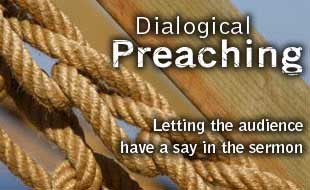 This slideshow is only available for subscribers.
Please log in or subscribe to view the slideshow.
Dialogical Preaching (part 2)
Letting the audience have a say in the sermon

This is part two of a three-part series. In part one, Bob Hyatt offered a cultural and historical apologetic for dialogue in preaching. In part two, he addresses some of the concerns people have with dialogical preaching.
PreachingToday.com: Some would contend that introducing dialogue into the sermon could create a subjective atmosphere—one that fosters "truth by democracy," little concern for historical or grammatical issues, or an elevation of a more postmodern ethos. Are these concerns valid?
Bob Hyatt: I would say the concerns are valid but probably overstated. We should always be concerned about teaching correctly, whether in a small group or in a large worship gathering. We must always strive for the elevation of truth. But before I get to issues of avoiding a more subjective atmosphere, let me ask this question: Isn't it possible that truth can come from more than one voice? If I've effectively taught the Word of God to my community for 5–10 years, surely somebody has learned ...