Dialogical Preaching (part 1)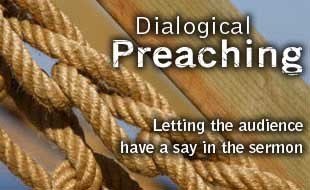 This slideshow is only available for subscribers.
Please log in or subscribe to view the slideshow.
Dialogical Preaching (part 1)
Letting the audience have a say in the sermon

Editor's note: This quarter, PreachingToday has focused on the idea of group sermon preparation. More and more preachers are putting together their messages in community, allowing for insightful, idea-producing dialogue with others. In this three-part interview with Bob Hyatt, pastor of The Evergreen Community (Portland, Oregon), we decided to add a twist to the concept: What happens when a preacher engages in a similar type of dialogue—but during the Sunday sermon itself? Under the conviction that the audience doesn't have to be silent, some preachers are embracing dialogical preaching. Though a great deal of sermon preparation is done ahead of time, dialogical preaching takes group preparation to a whole new level, leaving the door open for the community to shape the sermon during the actual worship gathering. In part one of this three-part series, Hyatt offers a cultural and historical apologetic for inviting dialogue into the sermon.