Preaching Upward, Inward, and Outward
Article
Preaching Upward, Inward, and Outward
Our sermons should encourage our hearers to love God, love themselves, and love others.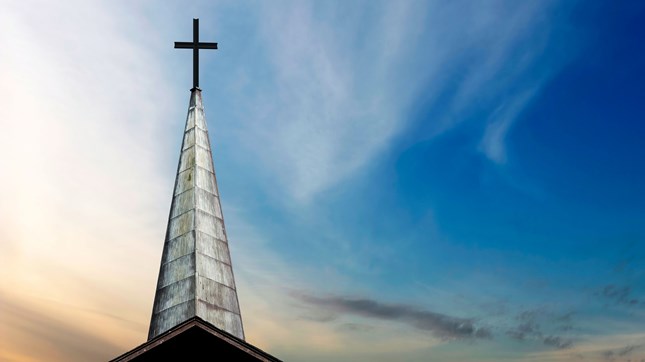 I have a confession: preaching freaks me out. A lot. I think when any pastor is honest with themselves about it, it freaks them out as well.
Think about it. You have a fixed amount of time to explain a text—a text that, in reality, is inexhaustible. So what do you say? What do you leave out?
This totally freaks me out every time.
But when I think about it, I realize life in general can be like that as well. Every day is your only chance to live that day. In a lot of ways, this freaks me out even more than preaching. What should you pursue each day? What do you neglect?
Preaching outward is about letting the Word of God lead the people of God into the world that is far from God with the love of God!
But Jesus, when asked to sum up all of God's Word in the Greatest Commandment, told us how to live our lives. He made it clear for us. He replied quite simply: "Love God, love yourself, and love others." (Now, that's my paraphrase of Jesus's answer, as he quoted both Deuteronomy 6:5 and Leviticus 19:18).
So in order to alleviate our fears and anxieties, Jesus asked us to live and love in three directions: Upward—by loving God, Inward—by loving ourselves, and Outward—by loving others.
Now, Jesus said if we get this thing right, out of everything that is in God's Word, then we have the whole story. It's simple. Elegant. Deeply profound.
I became so excited about this Upward, Inward, and Outward concept that I wrote a book by that very title, exploring this reality. I am stoked to let you know that my new book launches on October 10! Please pick up a copy wherever you like to buy your books or eBooks.
I love that Upward, Inward, and Outward is a God-breathed system for living, but it also has some extraordinary implications for preaching. If Jesus wants us to live and love in three directions, then we want to preach in three directions as well. Not only that, the aim of our preaching should be to move the people of God to live and love upward, inward, and outward, all in lock-step with Jesus's plan for his people.
So let's explore this together.
Preaching Upward
There is little doubt that preaching is designed to be the telling of the good news of what God has done in Christ. Preaching is the proclamation of the Word of God, empowered by the Spirit of God, to bless the people of God, and to reach and regenerate those far from God.
But how exactly does preaching accomplish its purpose in the heart of the hearer?
I have heard it said that a lecture is about the transfer of information. But preaching is so much more than that. It's designed to create worshippers on the spot.
When faithful biblical preaching results in worship, we have landed right on the mark of preaching upward in a way that promotes the love of God, with the totality of who we are. We know that we love God because he first loved us (1 John 4:19). When God's unfathomable love is proclaimed, it creates a response of love in our hearts. This love must be expressed in worship.
Upward preaching seeks the Spirit to cultivate authentic and evocative worship. Now as preachers, we can never accomplish upward preaching (where we return God's love back to him) unless we allow our studies to be worship experiences.
Unfortunately, many of us are content to let our studies be exercises in exegesis and hermeneutics—and these are absolutely necessary. But we must allow them to lead us to worship and adoration in our sermon preparation times as well.
An on-fire worshipping preacher has a much better likelihood of producing upward living in the life of the congregation.
Preaching Inward
I acknowledge that this can be the most controversial of the upward, inward, and outward way of living.
Although Jesus said that we should "love our neighbor as ourselves," which implies self-love, the Bible student automatically remembers the Apostle Paul's prophetic utterance in 2 Timothy 3:1-2 which says, "In the last days perilous times will come: for men will be lovers of themselves … " Immediately red flags go up. The idea of loving ourselves sounds like some sort of last days deception or a New Age twist on what was actually meant to be an act of worship directed to God.
So how do we reconcile these two ideas? It's simpler than we think. The Apostle Paul is speaking of a time when people love themselves instead of loving God (or others). He's highlighting self-worship born out of a rejection of the Gospel. But Jesus is speaking of self-love that flows out of loving God and flows into loving others.
What we realize very quickly is that God loves his people! And because God loves us, when we return that love to God, we learn a biblically healthy self-love. We love ourselves because God loves us, and he is conforming us to be like him. Self-love becomes transformational when we love and value ourselves based on the finished work of the Cross of Jesus.
So how do we preach inward?
Since biblical self-love has everything to do with the Cross, preaching inward happens when we preach the Cross of Jesus Christ and lead people into how the Cross comes to bear on their own lives. The Cross teaches that we are more loved than we can ever fathom. "For God so loved the world that he gave his only begotten Son" (John 3:16). God loves people so much that he gave everything. At the same time, we remember that it is our sin that placed Jesus on the Cross. So not only does the Cross remind us that we are deeply loved, but the Cross also reveals our epic failings. We are more flawed than we would ever care to admit.
The Cross is God's plan for us to see and love ourselves properly. As preachers, we must view our lives and ministries through the lens of the Cross. We must be unashamed to communicate the Cross, not just in theory, but also in application. When we preach the Cross, we are preaching inward towards a beautifully biblical self-love.
Preaching Outward
Finally, we learn that when we live and love upward, it leads us to the do the same inward, and ends with us living outward, into our communities and our world.
The Lord is the great transformer of people, and it's his plan for his church to be a transformational agent in the world. But notice that Jesus doesn't say "save" your neighbor or "convince" your neighbor or "judge" your neighbor, but "love" your neighbor.
Once we learn to love God and love ourselves, the Spirit leads us to love others. The Golden Rule reminds us to do unto others as we would want to be done unto us. We all desire to be loved, and we should go first and initiate that love to others. Preaching outward is about helping our congregations live and love out loud in a broken and fallen world.
Jesus loved us in the midst of our misery and brokenness, and his love has and is healing us every day. But where does that love lead us? Jesus wants us to live outward by sharing his love, with radical liberality, to everyone.
Preaching outward is about letting the Word of God lead the people of God into the world that is far from God with the love of God! Oh, I love that so much, let me say that again. Preaching outward is about letting the Word of God lead the people of God into the world that is far from God with the love of God!
The world needs the love of Jesus as much as it ever has. The church is in such dire need of pastors willing to help people understand and integrate the truths of God's Word into this messy world we live in today.
Our own lives lead the way. In order to preach outward, as preachers, we need to be living and loving outward as well. This can be challenging because by design, the people we hang with and minister to can be almost entirely the family of God. But we must vary our context and ask ourselves honest questions to make sure that we are loving outward, into the world, as pastors and preachers. As we do that, we will naturally preach outward.
My friends, let's allow Jesus to teach us how to preach upward, inward, and outward.
Editor's Note: If you would like to learn more about how these ideas of Upward, Inward, and Outward can impact your preaching and your spiritual life be sure to check out Fusco's book Upward, Inward, Outward: Loving God, Loving Ourselves, and Loving Others.
Daniel Fusco is the Lead Pastor of Crossroads Community Church in Vancouver, WA.