Exploring "A New Earth"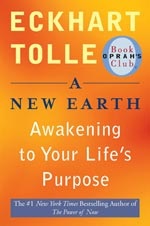 This slideshow is only available for subscribers.
Please log in or subscribe to view the slideshow.
Exploring "A New Earth"
A probing look at Eckhart Tolle's wildly popular book

If you've seen the weekly pop culture roundups we do on the Preaching Today blog, you know Eckhart Tolle's A New Earth has rested atop the New York Times bestseller list for weeks. Recent counts have it selling over three million copies—one million of which are due to Oprah's picking it for her book club. Over two million people are participating in a ten-week interactive webinar that Oprah hosts with Tolle (pronounced "toll-ee"). This is what many people are reading as they sip their lattes in Starbucks or close their evenings balled up on the couch. Many may very well be churchgoers.
The book's back matter calls Tolle's work "a profoundly spiritual manifesto for a better way of life—and for building a better world." But A New Earth tastes like the warmed leftovers of modernism, humanism, and the New Ageism of the '80s, with hints of Hinduism, Buddhism, and Christianity.     
With a spiritual mix like that, preachers have good reason to address the hopes and promises held out ...