Starting with Scripture with Annie F. Downs
Craft & Character Podcast
Episode 44 | 50 min
Starting with Scripture with Annie F. Downs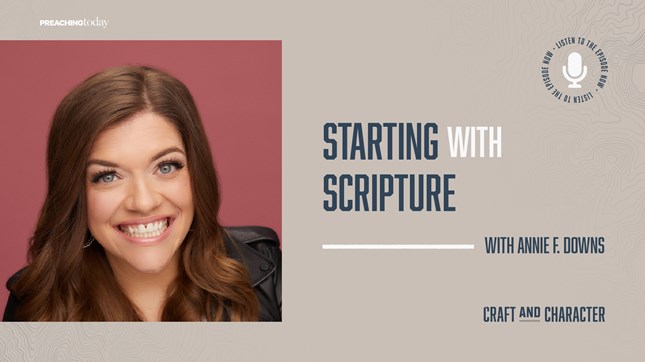 Image: Historic Agency
Annie F. Downs hosts a podcast called That Sounds Fun一a title which captures the contagious joy emanating from everything she does. Her content travels the globe through speaking tours, books, and podcasts, but her most cherished role is serving on the teaching team at Cross Point Church in Nashville. Her rootedness in this local community keeps her grounded, accountable, and reflects her heart to prioritize people over platform.
For any communicator who struggles against the time clock, or who gets overwhelmed by everything they want to say, Annie helpfully explains her process of elimination when crafting a talk. As a traveling speaker challenged to meet fluctuating time limits, she prepares 30, 45, and 60-minute versions for all her major messages. She also practices out loud, often in front of a football or baseball game on her TV.
Steve Carter and Annie also reflect on the important voice of women in the church, and how she winsomely navigates the tensions facing female preachers today. They end with a discussion on the four Gospels and how they've been transformative in Annie's life in the past few years.
EPISODE LINKS
Annie's books: That Sounds Fun, Remember God, 100 Days to Brave, Looking for Lovely
Cross Point Church: crosspoint.tv
@anniefdowns
@steveryancarter
@craft_character