Finding Streams in the Wasteland with Andrew Arndt
Craft & Character Podcast
Episode 69 | 39 min
Finding Streams in the Wasteland with Andrew Arndt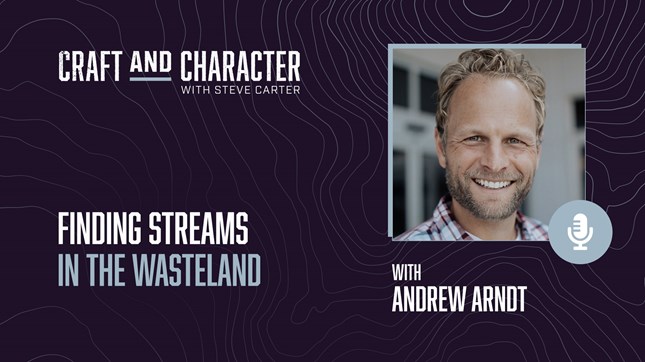 Image: Vasil Nazar
Andrew Arndt had an airtight plan for his life: keep preaching at the same church as lead pastor until his final breath. But when God led him out of his small, artsy community into a megachurch, while grateful for his new assignment, he found himself disoriented and mourning the loss of his former role.
That's when a friend recommended, "You should read the Desert Fathers and Mothers." So he did, and it changed everything.
The Desert fathers show us that in the midst of disorientation is an invitation一not to suppress what's inside, but to welcome God into it. Andrew explains to Steve Carter some of his key learnings, which will help anyone struggling through a disorienting season:
How simple gratitude reconnects us to God

Why embracing the mystery of God frees us from ego-driven expectations

How to preach deeply and supplant the superficiality of our age

How to replace perfunctory preaching with Scripture-sparked fire
Many of us long to benefit from the wisdom of the Desert Fathers, but aren't sure where to begin. This episode, along with Andrew's book, Streams in the Wasteland, will plunge you into their world. Chances are, like Andrew, you'll never be the same.

EPISODE LINKS
Andrew's book: Streams in the Wasteland, All Flame
The book he read about the Desert Fathers/Mothers: Sayings of the Desert Fathers
Website: https://andrewarndt.com
Church: https://north.newlifechurch.org
@theandrewarndt
@steveryancarter
@craft_character