Fighting Racism Through Preaching with Jemar Tisby
Craft & Character Podcast
Episode 37 | 57 min
Fighting Racism Through Preaching with Jemar Tisby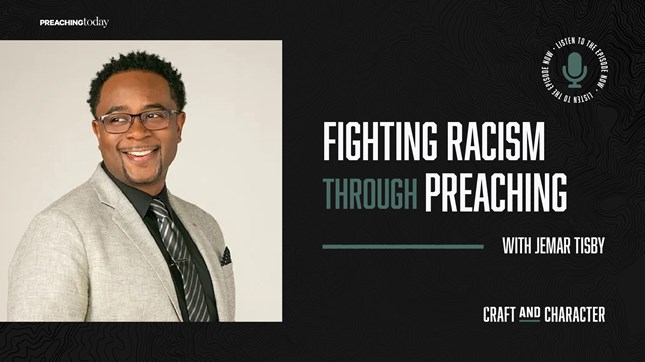 Image: Historic Agency
"We are living in times that demand a decision on justice." In this episode, Steve Carter interviews Historian, Author, and Speaker, Jemar Tisby. Tisby walks listeners through why we have to be pushing people towards the gospel truth, his expansive understanding of what progress looks like, and why the transformation of the heart as people pursue racial justice still gives him hope.
He encourages pastors not only on WHY to lead your church well through racial justice, but provides priceless and practical recommendations on HOW to bake racial justice into the core of your culture.
Finally, Tisby reminds pastors that as you pursue racial justice, you don't have to come up with it yourself. If you are ready to proclaim the good news for everyone in your preaching, you won't be disappointed.
INSIGHTS FROM JEMAR TISBY
Hope Remains
"We have to have the mind now that we are laboring for a legacy. We are activists now so that we can be great ancestors later."
What is the alternative to hope? Despair.
As Christians, we are prisoners of hope. I don't know how you read the New Testament, how you learn about the life, death, resurrection, and coming return of Jesus and not have hope.
Where do you put your hope?

Earthly kingdoms;
A political party having the white house or congress;
A particular law or policy being passed or changed;
In humans who are prone to wander
How To Dive Into Racial Justice as a Preacher
"We are living in times that demand a decision on justice. We are living in times of moral clarity." In these times of such moral clarity, people have made their stances clear. The clearer the issue, the stronger people adhere to their stance.
The sobering reality is that this is ultimately a heart issue, not just an intellectual issue. It's an ideology they are believing. An idol they are worshipping. And it may be that there isn't any amount of 1:1 meetings, email exchanges, or book recommendations that will change their mind.
Church leaders must clearly state their church's stance on racial justice and let people decide. You may not persuade but you can at least make it clear that:
Certain views will not be tolerated;
Certain statements will not be conscioused,
Certain efforts and endeavors will always be a part of the life of the church.
We can no longer be covert about our commitment to racial justice.
Leadership & Preaching Tips on Matters of Racial Reconciliation
A - awareness
R - relationship
C - commitment
Black History Month should be a month that helps serve as a jumping off point for a 24-7, 365, commitment to racial justice. If you don't already have one, start a racial justice action committee.
Consider, what does your church's "front facing" material (like your website) tell people of color? At a minimum, it needs to feel safe and include an obvious, overt, & ongoing commitment to racial justice.
Ongoing. Is this embedded in the discipleship pathways of the church? Have a whole lesson in your new members class dedicated to your church's understanding of racial justice. Embed it in your Sunday school curriculum.
It's more than a sermon series, but here's a good place to start for one. A preaching series on The Image of God: how as people of faith are we to understand human beings in such a way that is going to allow us to relate in a dignified manner in some cases to people that are so different from us.
Create awareness. building relationships intentionally. Intentionally getting in the way of people who are different in diversity.
Commitment - what in your local community is happening that you can help change? Offer financial support of black led non-profits. Then make this support a regular, recurring part of your giving.
The Antioch Church
We stopped at an Acts 2 Church, and we don't actually like the Antioch Church in Acts 13. The church is ethnically diverse. The assembly has always been ethnically diverse. So how did we get here?
Preach the gospel. Well the gospel is good news. What is good news to the people who:
Are oppressed because of the color of their skin?
Have to choose between paying the light bill or fixing their one automobile?
To women who have been relegated to marginal roles in the church?
It's about applying timeless principles to specific circumstances. Which is what the church in Antioch was able to do. Meeting people's needs as a demonstration of the abundance of grace that comes through faith in Christ.
How do we help people see this within themselves without defending, but instead receiving it and recognizing that they are in process to get closer to the image of God?
We have to have the humility to recognize that none of us approach God or the Word of God from a purely objective perspective. They don't acknowledge that their understanding has been shaped by time, place, circumstance, and culture. Which doesn't mean it's wrong in and of itself, but it means there's more to the story…
Lightswitch vs. Smoke Alarm
Dr. Jemar Tisby describes the metaphor he uses in his book to describe the differences between how a person of color experiences racial justice vs. how people in a position of power and supremacy experience racial justice.
"Justice is when I make your problem, my problem." Pastor Tyler Burns
Racial justice has to be baked into the culture of your church, it won't taste the same if it's just sprinkled on top.
Racial justice will come at a high cost.
Trust and believe that the Lord is growing a mighty tree of justice and righteousness that's going to bear fruit and we might be the seed that falls and dies to the ground, but produces life because of it.
EPISODE LINKS
The Color of Compromise by Jemar Tisby
How To Fight Racism by Jemar Tisby
How to Fight Racism: Young Leader's Edition by Jemar Tisby
White Awake: An Honest Look at What It Means To Be White by Daniel Hill