4 Commitments of Preachers with Jared E. Alcántara
Craft & Character Podcast
Episode 63 | 56 min
4 Commitments of Preachers with Jared E. Alcántara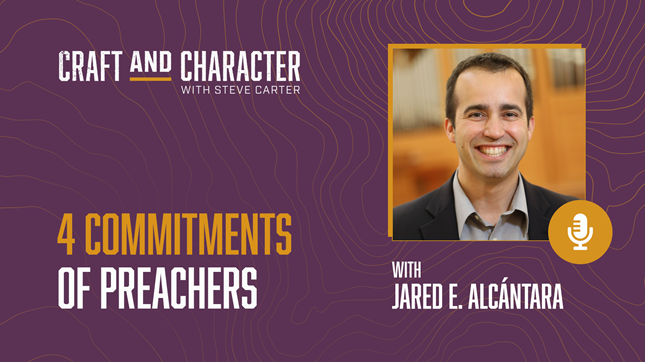 Image: Vasil Nazar
Some people transport us beyond our blind spots and comfort zones一introducing us to a chorus of diverse voices echoing across God's kingdom, from both church history and our own age.
Jared Alcántara is one of those guides.
Growing up in a bi-cultural home in a diverse low-income neighborhood, and now as Professor of Preaching at Truett Theological Seminary, his homiletics classes prominently feature Black, Latino(a), and Asian North American preachers. He's written two books on one of his preaching heroes, Gardner C. Taylor.
Jared talks with Steve Carter about his book, The Practices of Christian Preaching, which offers four practical ways to grow as a communicator:
Focused Attention
Concrete Goals
Constructive Feedback
Willingness to Take Risks
Jared explains that, although receiving feedback is vulnerable and humbling, no preacher, regardless of pedigree, can avoid plateauing without it. Ultimately, growth is not about accruing accolades or platform building: it's so listeners will see and savor the beauty of God and the gospel.
EPISODE LINKS
Jared's books about Gardner Taylor:
Learning From A Legend: What Gardner C. Taylor Can Teach Us About Preaching
Crossover Preaching(his dissertation)
Jared's other books:
The Practices of Christian Preaching: Essentials For Effective Proclamation
Book by Matthew Kim & Daniel Wong:
Finding Our Voice: A Vision For Asian North American Preaching
Book by K. Anders Ericsson:
Peak: How All of Us Can Achieve Extraordinary Things
@jaredealcantara
@steveryancarter
@craft_character