Graceful Preaching
Article
Graceful Preaching
3 lessons on grace-filled preaching from the Book of Galatians.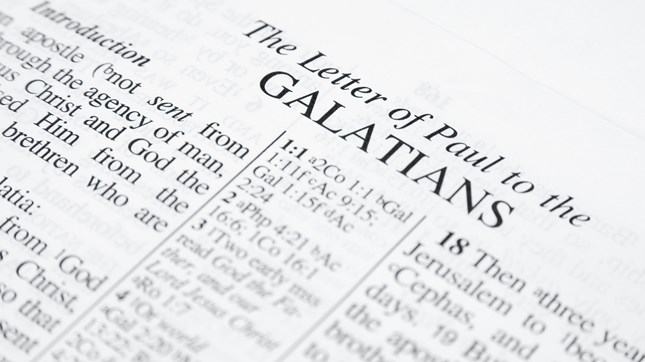 Image: Fadyukhin / Getty Images
"Amazing Grace how sweet the sound that saved a wretch like me …." It's the beginning of a cherished, 250-year-old hymn that has captured the American imagination, especially in times of crisis. It's played at funerals. It's sung at revival meetings. An astronaut even played a bagpipe rendition on the International Space Station!
But why does this song continue to inspire us, two-and-a-half centuries after it was penned? The answer lies in the elegant beauty of the lyrics and melody. Written by the former slave trader, John Newton, the song can be read autobiographically. Newton was ashamed of his former life. He thought of himself as the "wretch" mentioned in the first verse. And yet, he wasn't the same man he used to be. Newton had experienced the transformative power of God's grace. The death and resurrection of Christ offered hope for repentant slave traders like Newton. And it still offers hope to sinners in every era. That's good news for those of us who live in the modern world.
This summer, as I prepared to preach a series on Galatians at the church I serve, the theme of grace infused my thoughts. The ancient letter from Paul is a favorite for sinners (maybe that's why I like it so much). It demonstrates, in direct and urgent ways, the depth of God's grace to humanity. It showcases what's so amazing about grace.
The theme of grace is why the book was cherished in the Protestant Reformation. It is unsurprising to learn that "Galatians was the book that Luther prized above all others in the Bible" (Riches, Galatians Through the Centuries, p. 4). Why did the German Reformer love this little Epistle? Galatians is a straightforward explanation of how people are made right with God. In a day of Papal indulgences and complex penance, Galatians was a breath of fresh air. In an era of performance, it offered rest in the finished work of Christ. In an era of works, it offered a place of belonging through the Cross.
That's all well and good for European reformers 500 years ago, but what about today? What about the Silicon Forest, where I pastor just outside of Portland, Oregon? Is the message of grace contained in Galatians still amazing? Or is merely sentimental messaging, like what we find in Hallmark movies?
Why Galatians?
I chose to preach the Book of Galatians because I believe that our church needed to hear the message of grace afresh. Two reasons drove my thinking. First, the congregation I serve is the English ministry of an immigrant church. Upstairs, the congregation worships in English. Downstairs, the congregation worships in Mandarin. We are constantly navigating cultural differences as we strive to be one church made up of multiple congregations. The differences between first and second-generation immigrants can be profound. Consequently, our church places a premium on unity. We are one church with one Lord, one faith, and one baptism.
But, like the churches of South Galatia, we can run into our share of cultural challenges. As you peruse Paul's letter he's upset because outsiders have come into the newly planted churches and disrupted unity between Jewish and Gentile Christians. Both groups had believed in Jesus the Messiah and formed a multicultural church. But then, the Gentile Christians were told they had to become more Jewish to remain in the church. If they wanted to belong, they needed to get circumcised and observe Jewish dietary customs. This message shocked the church plants in South Galatia, and so, Paul wrote a letter to sort everything out.
How did Paul resolve this cultural conflict? He explained the doctrine of justification. Paul argued that, through his life, death, and resurrection, Jesus had given everyone a place to belong. And that belonging was granted freely by grace. Through faith in the Messiah, both Jews and Gentiles could join the Family of God and be made one. I wanted to preach Paul's letter because of its applied theology. Its lofty doctrine of justification was directly relevant to our multicultural church.
There was a second reason I selected Galatians, and it also pertained to the concept of grace. Most of our congregants are employed in the highly competitive tech sector. In a field that changes as rapidly as computer science, it can be tempting to think that you must justify your own existence. What have you done lately? It's the haunting question of the supervisor that stares at you through the screen in your video conference.
I wanted the members of our church to be reminded that they don't have to justify their own existence. In fact, there's nothing that any of us can do to demonstrate that we belong. Paul's letter to the Galatians reminds us that belonging is something that's offered to all those who are in the Messiah, through faith. And this belonging is based upon what someone else has done: through his life, death, and resurrection, Jesus has given us a place to belong. And no one can take that away from us. This is what's so amazing about grace.
Because of these two reasons, we embarked upon an exploration of Galatians. It was my first time preaching through this Book that brims with grace. Along the way, I learned three important lessons about grace-filled preaching in Galatians. These lessons are geared towards Paul's poignant letter, but they also apply more broadly to preaching from other texts.
Embrace Gospel Repetition
At first, the repetitive nature of Galatians tripped me up. It seemed that Paul kept saying the same thing over and over again. He kept criticizing circumcision, talking about Abraham, establishing the pitfalls of the Mosaic Law, and emphasizing the Cross. For a summer sermon series, I had to work to make my sermons feel fresh and different. After all, I'm sure my listeners got tired of hearing me talk about circumcision every Sunday.
But somewhere along the way, I realized it was ok to repeat myself. After all, the Holy Spirit inspired the text in this format, repetition and all. That means that he thought we really needed to hear the gospel over and over again. Perhaps it's because he knows our human propensity to forget about the beauty of grace. Perhaps it's because he knows we must continually be called back to the basics of Christianity.
And so, I learned to repeat myself. I preached the gospel every week, majoring on grace, because Paul did. I explained grace for the unbelievers that I knew were in attendance. And I delved into the depths of God's grace for the Christians who were there too. Nobody seems to tire of the song "Amazing Grace." Maybe that's because we know deep down that we all need it. When I preached this summer, I think I sounded like a broken record that was stuck on grace. And I'm ok with that.
Balance Grace with the Commands of Scripture
Sometimes people go all-in on grace and forget about the ethical imperatives of Scripture. But the commands of the Spirit of God are right there, and we cannot escape their grasp. For instance, Paul wrote in Galatians about the so-called "Antioch Incident" in which he challenged Peter to his face because of his hypocrisy (Gal 2:11-14). For Paul, the gospel results in ethical imperatives, and we must all stay true to the gospel. Or as he put it later, we must keep in step with the Spirit (Gal 5:25).
It is liberating to understand the grace of God. But it does not set us free to continue in sin so that grace may abound. Instead, God's grace is given to change us into the kind of people who obey the voice of the Spirit. Preaching about the grace of God that is revealed in Galatians means that I had to confront the works of the flesh and point people to the fruit of the Spirit (Gal 5:16-23). But the ethical imperatives flow out of the realities of our belonging. Because we have been justified by grace, we are a community that takes responsibility for the spiritual formation of our brothers and sisters (Gal 6:1-5).
Focus on both the Individual and the Corporate Dimensions of Grace
The gospel is good news for individual sinners like you and me. Galatians shows us that individuals can be made right with God through union with Christ. By faith in the Messiah, every person can belong. That's good news for the addict, the workaholic, the divorcee, the parent, the immigrant, the racist, the student. Every broken person can belong because of Jesus.
In my tradition of evangelical Christianity, we emphasize this personal nature of our faith. We believe that grace is amazing because it transforms individuals like John Newton, and like us. But in my preaching, I also realize that there is a corporate dimension to grace. God's grace is granted to a people. Christ's church is born through his death, burial, and resurrection. And that has launched an era of New Creation that is witnessing the formation of the Holy Temple of the Spirit of God.
In Galatians, grace has profound communal implications. It shapes a people, so that they exist as a Jew-Gentile community. It shapes a people, so that they are given a fresh new identity that is marked, not by circumcision, but by the Cross. Galatians is applied ecclesiology, and it shows us what happens when a group understands what's so amazing about grace.
In my preaching, I had to balance the individual and corporate dimensions of the gospel of grace. I had to offer hope for the individual who was striving to justify their own existence as they climb the corporate ladder. And I also had to remind the group of what we were striving to be: a community of the Spirit that is transformed by the gospel. This dance between the individual and corporate dimensions of grace was something that punctuated my sermons.
In the end, I keep coming back to Newton's song. His hymn is rich because it overflows with grace. Like singing, our preaching should be graceful. Not in the sense of being elegant and polished (although that's certainly not bad). Rather, our preaching is graceful when it begins and ends with God's amazing grace. That was good enough for Paul, it was good enough for John Newton, and it's good enough for me.
Stephen Stallard is an Assistant Professor of Pastoral Ministry at Western Seminary in Portland, Oregon, the English Pastor of the Chinese Evangelical Church of Portland, and the author of 'Diverse Teams: Rediscovering an Ancient Approach to Urban Mission.'