Sunday Mornings: Witnesses
Article
Sunday Mornings: Witnesses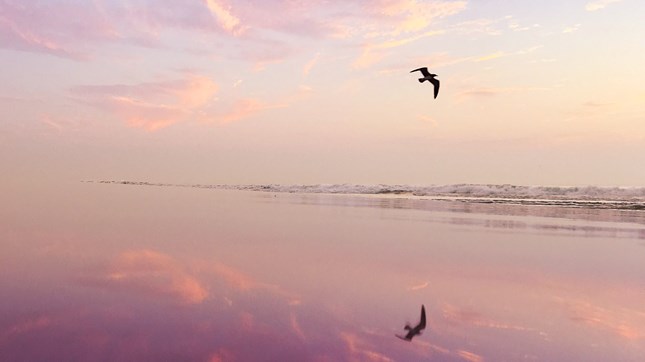 Image: Cyndi Monaghan / Getty
My Dear Shepherds,
First Presbyterian Church in Pittsburgh has an extraordinarily beautiful sanctuary—soaring ceiling, mighty stone columns, fourteen 26-foot Tiffany windows, a breath-taking organ with nearly 4,400 pipes, and curving steps rising to a high pulpit.
I was there one Sunday, in the fall of 1984, to hear Dr. Bruce Thielemann, a preacher who was a true orator. He was preaching through the Apostles' Creed and that Sunday his theme was, "the holy catholic church." At one point, he turned dramatically to put his arms around the wide column behind him, likening it to the apostles and prophets holding up the church. He swept his hand toward the high rafters and had us imagining the witnesses of our faith watching and testifying to us of our sure salvation in Christ.
Therefore, since we are surrounded by such a great cloud of witnesses … (Heb. 12:1)
Witnesses always gather around us on Sunday mornings, beginning with our distant relatives in the faith like Abel, Abraham and Sarah, Moses, Joshua, Rahab, and on through all the apostles with their Christian friends. They come garbed in the pages of Scripture to witness to us that faith in the promises of God, secured by Christ, will never be in vain.
There are also the later Word-witnesses who translated our Bibles and wrote commentaries for us, who wrote our creeds and our songs, who proclaimed the gospel to our forebears and who built the congregations we now serve, and all those witnesses in the spiritual lineages of each of our people.
The saints in our congregations witness to us as well. Pastors know the stories that turn their singing to personal testimonies. We are heartened by the work of the Spirit that makes them hungry for God's Word. Those brothers and sisters testify to us in one way or another, "He who called you is faithful." "Jesus Christ is the same, yesterday, today, and forever." "He who began a good work in you will carry it on to completion." "Be not afraid."
Once I wrote a note of appreciation to an eminent professor who had invested in me. He thanked me but then acknowledged those who came before him. "We all stand on the shoulders of others," he said. A student told me once, "When I think of grace, I don't think of my pastors or youth pastor. I think of the old ladies in my church." Witnesses, all of them.
Our fellow pastors make up their own witness list. When I was younger, there would be a big luncheon for pastors at our denomination's national conference. Each year a dozen or so pastors who had reached age 65 were recognized as lifetime members of our ministerial association.
I remember looking at those old shepherds, imagining all the sermons they had preached, all the meetings they had attended, and all the stresses they had faced for the Lord's sake. To me they were like veterans who I'd seen marching in the Fourth of July parade. I was proud to be in their company and proud to be a recruit. They were my models of "endurance inspired by hope in our Lord Jesus Christ." Every Sunday, all over our towns, there are pastors in all manner of congregations, who "preach the word … in season and out of season."
All these witnesses gather each Sunday to tell us, in one way or another,
Therefore … let us throw off everything that hinders and the sin that so easily entangles. And let us run with perseverance the race marked out for us, fixing our eyes on Jesus, the pioneer and perfecter of faith. (Heb. 12:1-2)
Be ye glad!
Lee Eclov recently retired after 40 years of local pastoral ministry and now focuses on ministry among pastors. He writes a weekly devotional for preachers on Preaching Today.